What Are The Requirements To Get ISO 45001 Certification in Oman?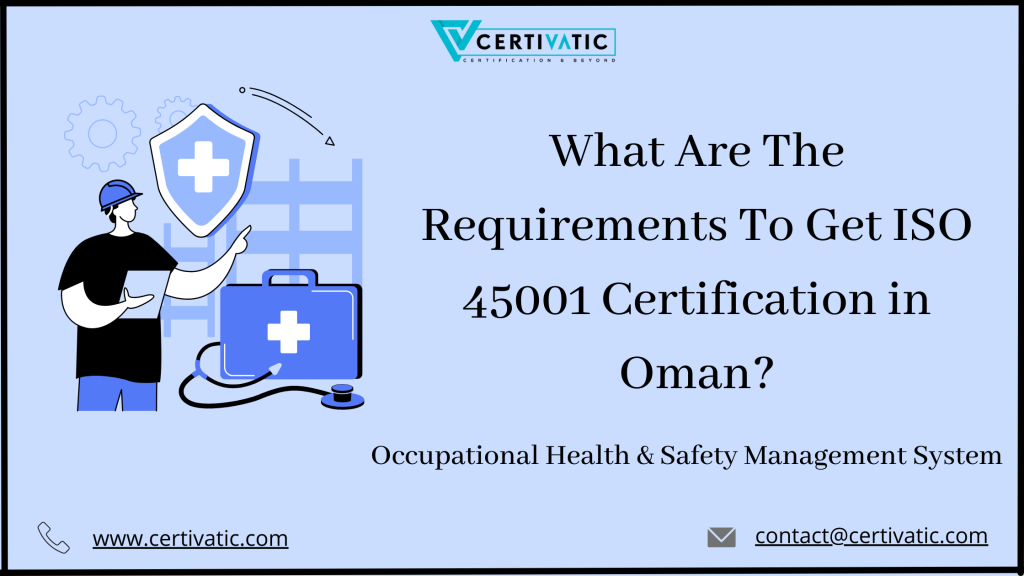 What is ISO 45001 Certification in Oman?
ISO 45001 Certification in Oman, is an international standard that establishes the requirements for an Occupational Health and Safety (OH&S) Management system.
With guidelines for its use to enable organizations to provide a safe and healthy workplace by preventing injury and ill health in the workplace by proactively increasing the effectiveness of Occupational Health and Safety. ISO 45001 Certification can be applied to any organization regardless of size, and type.
ISO 45001 certificate in Oman demonstrates the brand responsibility by committing to safe, healthy, and sustainable work. ISO 45001 is a global occupational health and safety management system for all companies/businesses. It enhances the company's image towards customers, partners, and society. This reduces downtime and business interruption costs.
Requirements to get ISO 45001 Certification in Oman:
Leadership:– To work practically to achieve goals, you must clearly communicate roles and responsibilities. And your leadership team must be responsible for the Occupational Health and Safety Management system and ensure that your employees have the tools and resources necessary to manage it successfully.
Evidence: – A main key requirement of this standard is continuous improvement. It shows that you have the future in mind and that you are always striving for better performance. This can be fulfilled through regular monitoring and assessment as well as corrective actions.
Support: – To get ISO 45001 certification requirements, you must provide the tools and resources necessary to implement, start and maintain your Occupational Health & Safety Management system. This may include training key personnel, Purchasing Personal Protective Equipment (PPE), and certainly communicating your goals/achievements.
Performance Evaluation: – To determine if you are performing well, you need to examine and estimate your health and safety performance at work by establishing criteria against which to measure it. This evidence then shows that your Occupational Health and Safety Management System is working.
Planning: – This requirement underscores the need for your business to adapt and respond to change. To do this, you need to have a clear plan to identify, assess and manage Occupational Health and Safety Management risks. You will also need to show how this will manage the relevant documentation.
Why choose Certivatic for ISO 45001 Certification in Oman?
Certivatic offers the very best in ISO 45001 certification in Oman and other certifications and advice. The certification team consists of qualified and experienced specialists from various industry sectors.
Certivatic provides services from small businesses to larger independent corporations and governments in India, Saudi Arabia, Malaysia, South Africa, Turkey, Bahrain, USA, United Arab Emirates, Oman, Nigeria, Jordan, Lebanon, etc., and other countries.