HALAL Certification In Oman
Al khuwair, Muscat, Sultanate of Oman
HALAL Certification In Oman
Halal Certification In Oman, Certivatic is specialized in providing Halal Certification and Consultation in Oman. We provide the best Halal Consultant service in Muscat, Salalah, Sohar, Sur, Nizwa, Mutrah with the service of consultation, implementation, documentation, training, auditing, and registration. We do provide CE Mark Certification, ISO Certification around the world at an affordable cost.
What is Halal Certification?
Halal is an Islamic term that means "permissible" and Haram means which is not permissible. Halal is a certificate given to the companies which comply with the Islamic rules and dietary plans specified in the Quran or Shariah with the processing cleaning and consuming of goods. It specifies the processing and preparation of meat according to Shariah. 
What are Halal requirements?
There are certain things that need to be kept in mind for being a halal-certified company which is as follows:
Use of pork meat during processing, packaging, or dispatching of the product is prohibited.

The use of Alcohol and its by-product is forbidden be it for use of cleaning itself is forbidden.

The Slaughtering Process should comply with the Islamic Rules.

The product should not be prepared with anything which is impure according to Shariah.

At the time of Slaughter, the animal should be alive.
How to get HALAL certification in Oman? – Our 5 simple steps: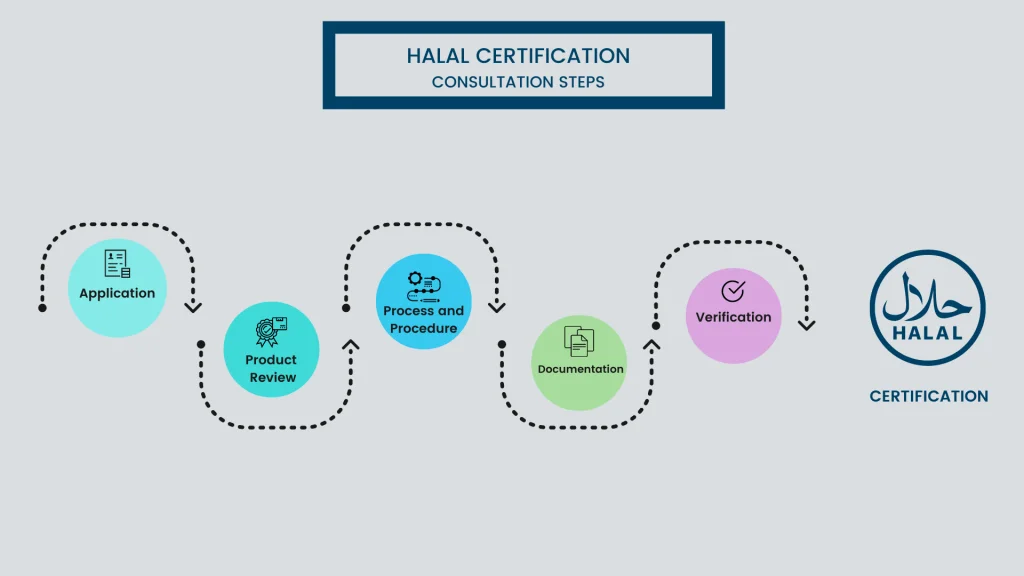 Step1: Apply for the HALAL certification
Step 2: Provide the list & specifications of the product produced along with the required documents
Step 3: Identify the product to comply with HALAL practices
Step 4: Inspection of the process & procedures
Step 5: Achieve the HALAL certification!
Why Is Halal Required?
With the increase in demand for Halal products, it has been necessary for companies to get Halal certified. With about 1.9 billion followers of Islam and with a 19% of share in the global food market it has been necessary for companies to get halal certification.
Halal certification provides an assurance for the Islamic people that the product they are using is according to their laws.

Halal certification provides satisfaction to the consumer and in turn companies get consumer loyalty against the product.

Halal certification is required for a company to trade with Islamic countries such as UAE, Qatar, Saudi Arabia, Oman, Kuwait, Bahrain, Indonesia, etc
Advantages of getting halal Certified:
Halal certification improves the quality of the product. Build trust among customers regarding the product.

when a company gets Halal Certified it gets exposure to a large customer base.

It is necessary for a company to be a halal-certified company to trade with the Islamic countries which gives an added benefit to the companies which are halal certified.

The business or product gets market exposure to over 2 billion people.
These are some of the benefits of getting certified for Halal certification in Oman. 
ISO Certification in Oman