CE Mark Certification In Oman
Al khuwair, Muscat, Sultanate of Oman
CE Mark Certification In Oman
CE Mark Certification In Oman, Certivatic is specialized in providing CE Mark Certification and Consultation in Oman. We provide the best Consultant service in Muscat, Salalah, Sohar, Misfah, Rusayl, Nizwa, Sur, Ibri, Duqm, Liwa, Seeb, Samail Rustaq, Khasab, Bahla, Haima, Saham, Barkha, Buraimi, Thumraith with the service of consultation, implementation, documentation, training, auditing, and registration. We do provide Halal Certification, ISO Certification around the world at an affordable cost.
What IS CE Mark Certification in Oman Means?
CE marking Stands for "conformite` Europe`nne`" or Europe Conformity. In simple words, through this mark, you can sell your goods in the European market. With CE mark, you affirm with the policies laid by the EU legislature and can sell your product anywhere in European Economic Area (EEA).
however it is not mandatory for all products to have a CE mark, it is only applicable to the products which are mentioned in the directive and regulation. Here both the seller and the importer should have the CE mark on their product. There are several modules issued by the EU which consist of various conformity assessments and procedures that need to match with your product. A product should compel with more than one module.
Why CE Marking is Required?
CE Marking is required to sell your product in the European market. It is also required by the manufacturers in the European countries to get CE marked before their products are launched in the market. This mark ensures the hazel-free movement of goods within the European market.
CE marking helps in differentiation by EEA customs and Enforcement about the permissible and Non-permissible products(Legal or illegal) through which goods can be identified. CE marking gives assurity and trust to the government officials that the product confronts the EU standards and can be placed in the market for the trade.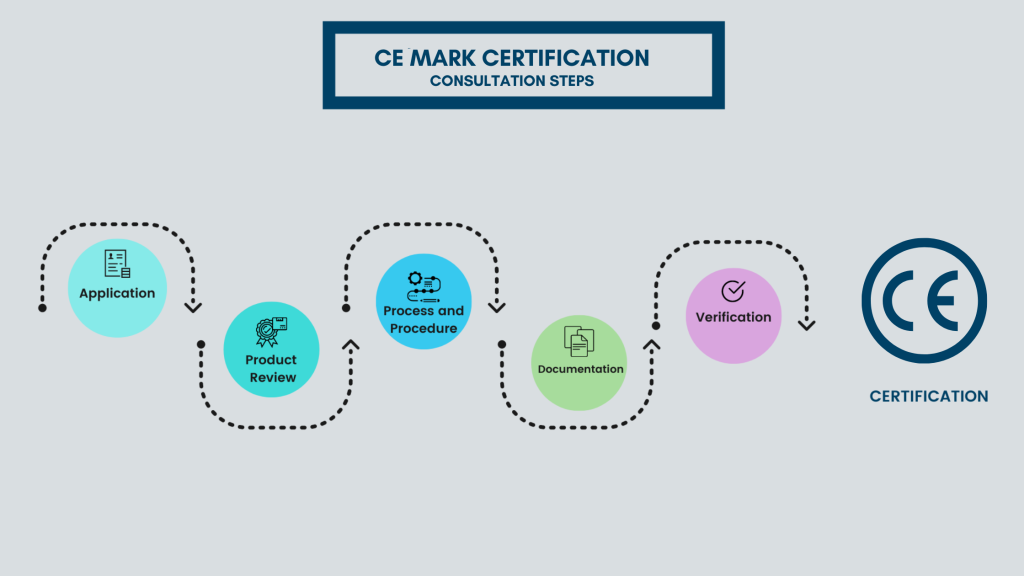 Our steps are easy, unique, time-bound, and result-oriented.
Determine the EU Directives that apply to your product.
Classifying the product and identifying the applicable Directives & Regulations.
More than one Directive/Regulation might be applicable to your product!
Identify & Cover the applicable requirements of the directive(S)
Identifying & evaluating your product against the essential requirements.
Ensure the product meets all those requirements.
Compilation of technical documentation
Preparing for the technical formalities and evidence.
Review of the technical aspects related to the design, manufacture, and/or operations of the product.
Creating a Declaration of Conformity (DOC)
An acknowledgment by the manufacturer stating that the product meets all relevant product safety requirements of the applicable CE marking directives.
Creating and signing a Declaration of Conformity.
Affixing the CE mark!
Labeling and marking the product as per the specifications.
Finally, affixing the correct CE marking label on the product.
Advantages Of CE Mark certification in Oman
here are various advantages of CE marking which are as follows:
Helps in selling your product in the European market

Ensures hazel free movement of goods in the European Market.

Ensures Quality management

Builds trust among customers

Ensures Safety

Increases revenue

Increases Exposure to the market

Builds Reputation in the market
For more information visit CE mark certification in Oman
ISO Certification in Oman