Advantages of ISO 14001 Certification in Oman
ISO 14001 certification in Oman is related to Environment Management System. And ISO 14001 certification is matching to ISO 9001 Standard (Quality Management System). 
The new version of ISO 14001 certification was published in September 2015.ISO 14001 Certification in Oman can be used by any organization because they want to improve resource efficiency, less cost and also reduce waste. 
ISO 14001 certification can give guarantee to the employees, management, and also external stakeholders that environmental impact is being improved. The main aim of ISO 14001 certification is to help companies in improving their environmental performance.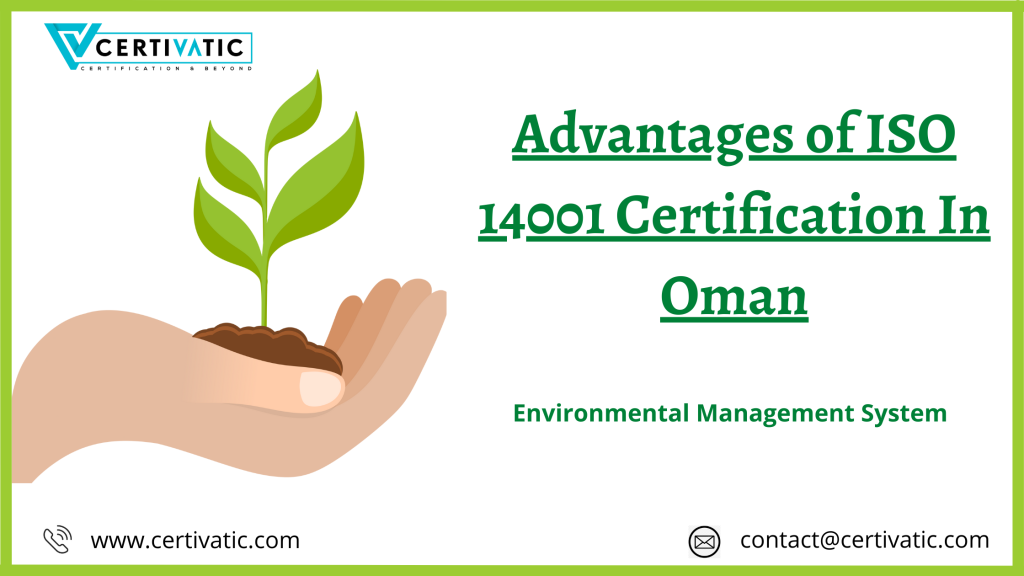 Let us discuss the advantages/benefits of ISO 14001 Certification in Oman
Cost Savings

: By reducing wasted resources like by use of less energy and water automatically there will be cost-savings implied. 

Improved corporate image: 

It refers to that, by displaying you are a manageable and responsible employer, you can rank your credibility, and also you will gain new customers.

Better client relationship management:

ISO 14001 certification in Oman helps to maintain good relations with the client. As well as it helps to rank the conditions of environmental responsibility

Compliance with legislation

: It means our organization can prove or understand that it is subordinated with applicable environmental legislation.

Reduce legal cost

: As per the Environmental Legislation cost of reduction for public liability insurance or prosecutions.
Why choose Certivatic for ISO 14001 Certification in Oman?
Certivatic is providing the best ISO certifications and consultations. The team of certivatic is included skilled and experienced professionals across a variety of industrial sectors. 
Certivatic is providing its services from small companies to larger, independent businesses and governments and who are across India, Saudi Arabia, Malaysia, South Africa, Turkey, Bahrain, US, UAE, Oman, Nigeria, Jordan, Lebanon, etc., and other countries.