ISO Certification In Nigeria
ISO Certification In Nigeria
ISO Certification In Nigeria, Certivatic is specialized in providing ISO Certification and Consultation in Nigeria. We provide the best ISO Consultant service in Abuja, Ibadan, Lagos, Kano, Port Harcourt with consultation, implementation, documentation, training, auditing, and registration. In addition, we provide CE mark Certification, HALAL Certification, and we do provide different ISO Standards like ISO 9001, ISO 14001, ISO 45001, ISO 27001, ISO 22000, ISO 17025, ISO 13485, and many others.
What does ISO Certification in Nigeria Mean?
ISO is first and foremost a global network of International standards bodies. It develops and publishes ISO Management System Standards and other various ISO standards in order to maintain standardization in the organization. ISO is a non-governmental, independent International organization founded in Geneva, Switzerland, on the 23rd of Feb 1947. ISO word is derived from the Greek word ISOS means equal. So whatever the country, whatever the language, we are always equal. The motto of ISO certification in Nigeria is always great things happen when the world agrees.
Why is ISO Certification in Nigeria  Important?
ISO Certification helps to increase your business profit and create a brand name in the global market, and ISO is an international certification that is acceptable across 164+ countries.
Globally recognized certification.
Reduce waste and improve efficiency.
A government label.
Trade between countries available.
Improved Consistency.
How to get ISO Certification in Nigeria? – Our effective implementation steps: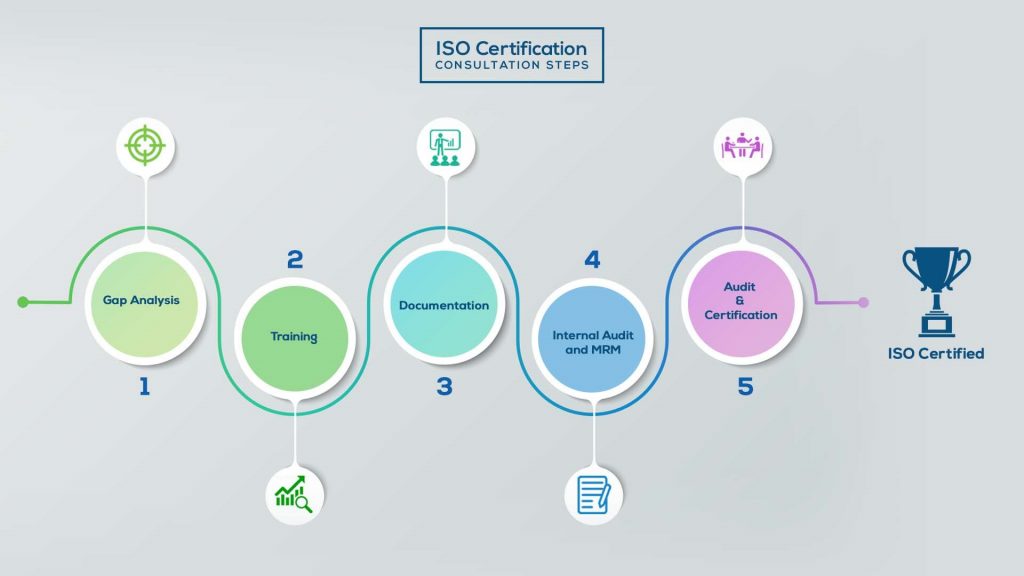 ISO Certification in Nigeria
Our method/steps are easy, unique, time-bound, and result-oriented.
Interacting and detailed study of current work flows in different departments, operating procedures, documentation and practices.

Identifying any shortcomings of your organization against the requirements of ISO.

Generating a Gap report and planning for implementation
Creating awareness about ISO standard and its importance.

A formal training session/s.

It includes training on internal auditing, documentation training, mock audit and trainings to conduct management review meeting.
Documentation is the manifestation for your entire organizations process, procedure and results.

End-to-End support on preparing documentation as per ISO requirements.
Internal Audit (IA) as a tool, it is a cross departmental audit to ensure zero loophole in the system of your organization.

MRM: Management review meeting (MRM) helps top management to guide and ensure the whole organization is up to the mark as per the standard requirements.
Certivatic – Your certification is our responsibility!

With our 100% track record of success, we make sure Certification is achieved successfully.
What are the Benefits / Advantages of ISO Certification in Nigeria?
Consumers can be confident that their products are safe, trustworthy, and of good quality.
ISO helps to guarantee that the organization complies with all relevant legal and regulatory requirements.
Beyond offering economic rewards, ISO certification helps to protect the planet's and people's health.
Increase the effectiveness of your marketing and sales campaigns.
Increase your control over the firm by improving staff performance.
ISO standards are relied upon by regulators and governments to aid in the development of better regulation.
Why choose Certivatic for ISO Certification in Nigeria?
Getting ISO certification is now easy with Certivatic. We provide the best ISO consultants across the world at an affordable cost. Our main motto is to fulfill Customers' queries and requirements along with the means of consulting.
Certivatic provides services across the world.

24/7 available to help with your certification queries.

Efficient, affordable, and quick certification process.

Genuine and credible certificates.
For further more information visit ISO Certification In Nigeria
Frequently Asked Questions