ISO 45001 Certification In Nigeria
ISO 45001 Certification In Nigeria
ISO 45001 Certification In Nigeria, Certivatic is specialized in providing ISO Certification and Consultation in Nigeria. We provide the best ISO Consultant service in Abuja, Ibadan, Lagos, Kano, Port Harcourt with the service of consultation, implementation, documentation, training, auditing, and registration. We do provide CE mark Certification and HALAL Certification.
What is ISO 45001 Certification?
ISO 45001 certification in Nigeria specifies requirements for an occupational health and safety (OH&S) management system and gives guidance to identify and control work related-hazards and manage risk in the organization.
ISO – International organization for standardization is an independent and non-governmental organization that develops international standards to maintain standardization, ISO has worldwide recognition. ISO has a member from around 165 countries who supports innovation and provides solutions to global challenges, ISO has 796 Technical committees and sub-committees to take care of standards development.
Why ISO 45001 Certification in Nigeria is Important?
There are 270 million accidents at work, 160 million people are sick with occupational diseases. This is why ISO 45001 plays a major role when it comes to protecting workers from work-related accidents and It is a social responsibility for all companies or organizations to take care of their workers, this creates and reflects the essence of the organization. 
ISO 45001 certification creates a set of rules and regulations containing worker protection requirements to ensure the safety of the workers in each and every organization.
ISO 45001 helps to manage risks in the workplace.

Eliminate hazards and minimize OH&S risks.

ISO 45001 certification helps in protecting the workers from work-related accidents.

Increase in productivity, revenues and reduce costs.

ISO 45001 helps to prevent work-related injury and ill health to workers and provide safe and healthy workplaces.
How to get ISO 45001 certification in Nigeria? – Our effective implementation steps: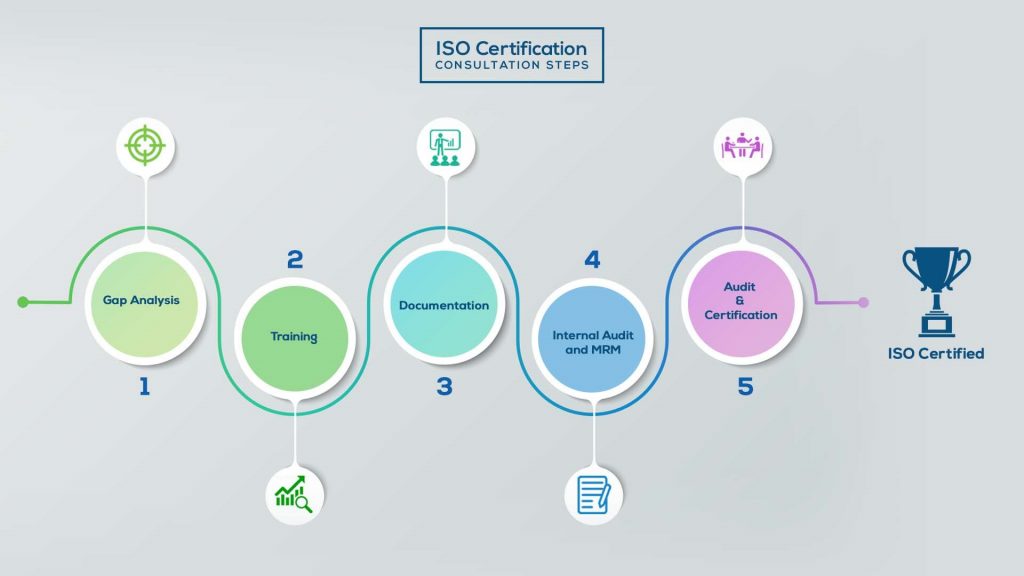 ISO Certification in Nigeria
Our method/steps are easy, unique, time-bound, and result-oriented.
Interacting and detailed study of current work flows in different departments, operating procedures, documentation and practices.

Identifying any shortcomings of your organization against the requirements of ISO.

Generating a Gap report and planning for implementation
Creating awareness about ISO standard and its importance.

A formal training session/s.

It includes training on internal auditing, documentation training, mock audit and trainings to conduct management review meeting.
Documentation is the manifestation for your entire organizations process, procedure and results.

End-to-End support on preparing documentation as per ISO requirements.
Internal Audit (IA) as a tool, it is a cross departmental audit to ensure zero loophole in the system of your organization.

MRM: Management review meeting (MRM) helps top management to guide and ensure the whole organization is up to the mark as per the standard requirements.
Certivatic – Your certification is our responsibility!

With our 100% track record of success, we make sure Certification is achieved successfully.
What are the Advantages /

Benefits

of ISO 45001 Certification in Nigeria? 
Employees and employers both benefit from workplace safety.

ISO 45001 certification helps in Identifying workplace Hazards

Safer workplaces minimize workplace accidents, resulting in greater production.

Occupational health and safety management system lead to the growth of a company's reputation and employer branding.

ISO 45001 helps to create a communication plan for safety.

ISO 45001 certification gives a set of rules and safety procedures that helps employees to have safety workplace.
Why Certivatic is the best option for ISO 45001 Certification in Nigeria?
Don't worry about how to get ISO and about the cost of ISO 45001 certification. Certivatic has a big consultation team worldwide that helps you get certified in an affordable way at a minimal cost.
Reasonable Price
Documentation is unique, simple, and process-oriented.
Process of certification that is efficient, cost-effective, and rapid.
For More information visit ISO 45001 Certification in Nigeria