ISO 22000 Certification In Nigeria
ISO 22000 Certification In Nigeria
ISO 22000 Certification In Nigeria, Certivatic is specialized in providing ISO Certification and Consultation in Nigeria. We provide the best ISO Consultant service in Abuja, Ibadan, Lagos, Kano, Port Harcourt with the service of consultation, implementation, documentation, training, auditing, and registration. We provide CE mark Certification, HALAL Certification
What is ISO 22000  Certification in Nigeria?
ISO is an international, independent, and non-governmental organization, ISO has published many standards to maintain standardization in the organization. ISO 22000 certification came into existence to identify and control food safety hazards, ISO 22000 specifies the requirements of the food safety management system. ISO provides guidelines and standards that keep our food safe in production and transit processing and at the market. 
Why ISO 22000 Certification

in Nigeria

is Important ?
The food has to be grown, later it has to be transported to market and they will store the food. It is important to keep food safe during all these processes. By certifying to ISO 22000 certification, the organization ensures that its products are safe for consumption and gives trust to customers that the product is safe to eat.
In order to save food from hazards, ISO is needed.

ISO provides the necessary information about how to improve the quality of the food.

ISO 22000 standard helps in preventing the amount of risk from food and gives confidence to customers.

It is an important marketing tool to showcase the safety and quality aspects of foods.
How to get ISO certification? – Our effective implementation steps: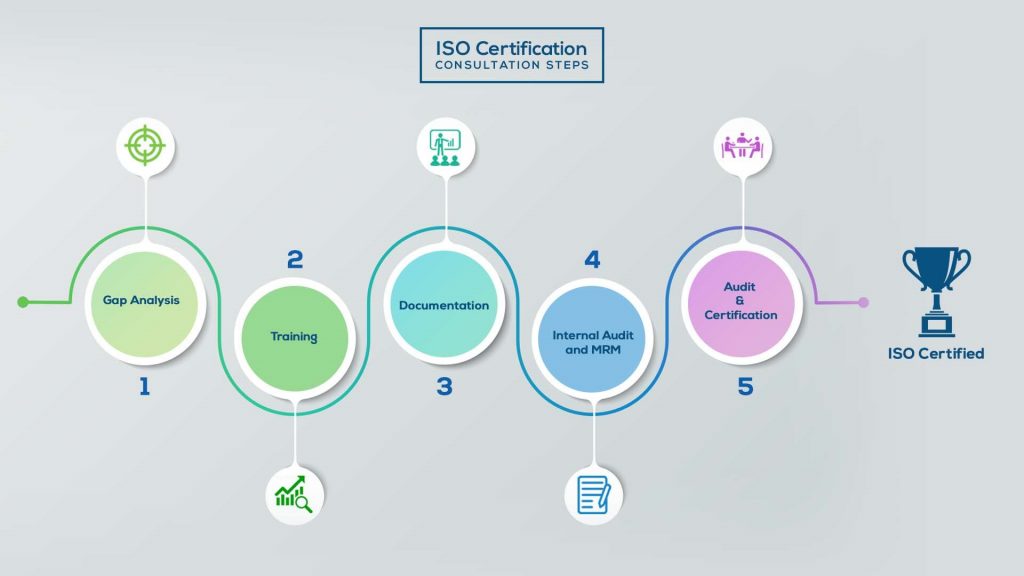 ISO Certification in Nigeria
Our method/steps are easy, unique, time-bound, and result-oriented.
Interacting and detailed study of current work flows in different departments, operating procedures, documentation and practices.

Identifying any shortcomings of your organization against the requirements of ISO.

Generating a Gap report and planning for implementation
Creating awareness about ISO standard and its importance.

A formal training session/s.

It includes training on internal auditing, documentation training, mock audit and trainings to conduct management review meeting.
Documentation is the manifestation for your entire organizations process, procedure and results.

End-to-End support on preparing documentation as per ISO requirements.
Internal Audit (IA) as a tool, it is a cross departmental audit to ensure zero loophole in the system of your organization.

MRM: Management review meeting (MRM) helps top management to guide and ensure the whole organization is up to the mark as per the standard requirements.
Certivatic – Your certification is our responsibility!

With our 100% track record of success, we make sure Certification is achieved successfully.
What are the advantages of ISO 22000 Certification in Nigeria?
ISO provides the necessary information on how to prevent food from being hazardous

By improving the quality of the food, the ISO can prevent food hazards.

ISO 22000 provides food safety policies and programs, and it leads to help in improving company reputation.

Food safety and hygiene are essential because they protect consumers' health.
Why choose Certivatic for ISO 22000 certification?
Certivatic is one of the top iso 22000 certification bodies in Nigeria, We provide ISO Consultant services across the world at an affordable cost and in an easy manner. We have an expert team who helps with your certification queries and we will make sure in achieving iso certification with proper documentation.
For more information Visit ISO 22000 Certification in Nigeria