ISO 17025 Certification In Nigeria
ISO 17025 Certification In Nigeria
ISO 17025 Certification In Nigeria, Certivatic is specialized in providing ISO Certification and Consultation in Nigeria. We provide the best ISO Consultant service in Abuja, Ibadan, Lagos, Kano, Port Harcourt with the service of consultation, implementation, documentation, training, auditing, and registration. We do provide CE mark Certification and HALAL Certification. 
What Does ISO 17025  Certification in  Nigeria Mean?
ISO 17025 certification in Nigeria specifies General requirements for the competence of testing and calibration of laboratories. ISO 7025 standards are one of the international standards for the testing and calibration of laboratories to deliver trusted results. The process treks the flow of how the item is tested in the laboratory.
Why is ISO 17025 Certification in Nigeria Important?
The ISO 17025 standard consists of structural method, procedure, and administration system requirements to help in increasing the effectiveness of the laboratory's quality management system. It can be virtually used under any laboratory circumstances.
ISO has published more than 21500 International Standards and related documents, covering almost every industry, from technology to food safety to agriculture and healthcare.
How to get ISO 17025  Certification in Nigeria? – Our effective implementation steps: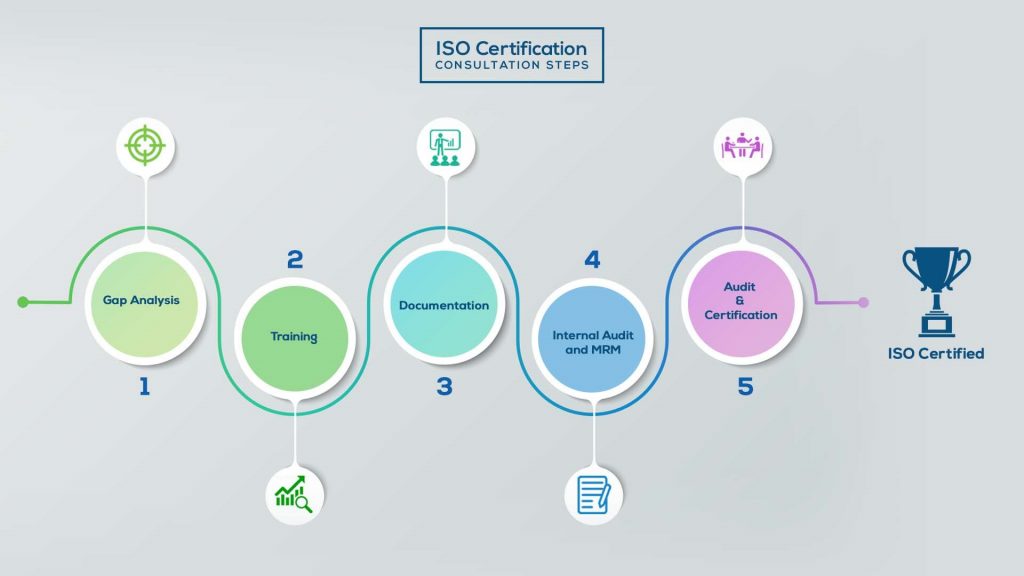 ISO Certification in Nigeria
Our method/steps are easy, unique, time-bound, and result-oriented.
Interacting and detailed study of current work flows in different departments, operating procedures, documentation and practices.

Identifying any shortcomings of your organization against the requirements of ISO.

Generating a Gap report and planning for implementation
Creating awareness about ISO standard and its importance.

A formal training session/s.

It includes training on internal auditing, documentation training, mock audit and trainings to conduct management review meeting.
Documentation is the manifestation for your entire organizations process, procedure and results.

End-to-End support on preparing documentation as per ISO requirements.
Internal Audit (IA) as a tool, it is a cross departmental audit to ensure zero loophole in the system of your organization.

MRM: Management review meeting (MRM) helps top management to guide and ensure the whole organization is up to the mark as per the standard requirements.
Certivatic – Your certification is our responsibility!

With our 100% track record of success, we make sure Certification is achieved successfully.
Benefits of ISO  17025 Certification in Nigeria
ISO/IEC 17025 enables laboratories to demonstrate that they operate competently and generate valid results, thereby promoting confidence in their work both nationally and worldwide.

Test reports and certificates can be accepted from one country to another without further testing, which, in turn, improves international trade.

It helps the laboratory think and operate so that they ensure that their processes are under control and the data are reliable.

ISO 17025 certification helps to improve how they deliver their services

ISO 17025 helps Laboratories to assess the risk result to their customer.
Why choose Certivatic for ISO Certification in Nigeria?
Certivatic is specialized in providing ISO certification, Consultation, By auditing, and training we help industries across the world in achieving ISO Certification.
For More information visit ISO 17025 Certification in Nigeria