Halal Certification In Nigeria
HALAL Certification in Nigeria
Halal Certification in Nigeria, Certivatic is a specialist in providing Halal Certification and Consultation in Nigeria. Our HALAL Consultant services are available in Abuja, Ibadan, Lagos, Kano, and Port Harcourt, with consultation, implementation, documentation, training, auditing, and registration. We do provide CE mark Certification and ISO Certifications.
What does HALAL Certification in Nigeria Mean?
Halal certification ensures that products and services that are offered to the Muslim community conform to Islamic law. If compatible, these products and services are considered fit for consumption by Muslims. As part of the halal certification process, the product must meet Islamic Council rules regarding quality and nature.
Halal certificates can be applied to a wide range of products. However, they are generally issued for meat, dairy products, canned foods, and some additives. In the case of meat products, Halal certifies that the meat is not contaminated with any other meat or products, nor does it come into contact with other products or be slaughtered in any other way.
Why Is HALAL Certification Required in Nigeria?
Getting Halal-certified products makes it possible for companies to export to Islamic countries. It should be noted that followers of Islam make up 1.8 billion people worldwide, which is 24.1% of the world population. In addition, only halal-certified food is allowed in many Islamic countries. According to some reports, the halal food market accounts for about 19% of the world's food market. In order to serve the larger market, meet the demand and fulfill the supply chain, it is, therefore, necessary for companies to make their products halal certified.
How to get HALAL certification in Nigeria? – Our 5 simple implementation steps: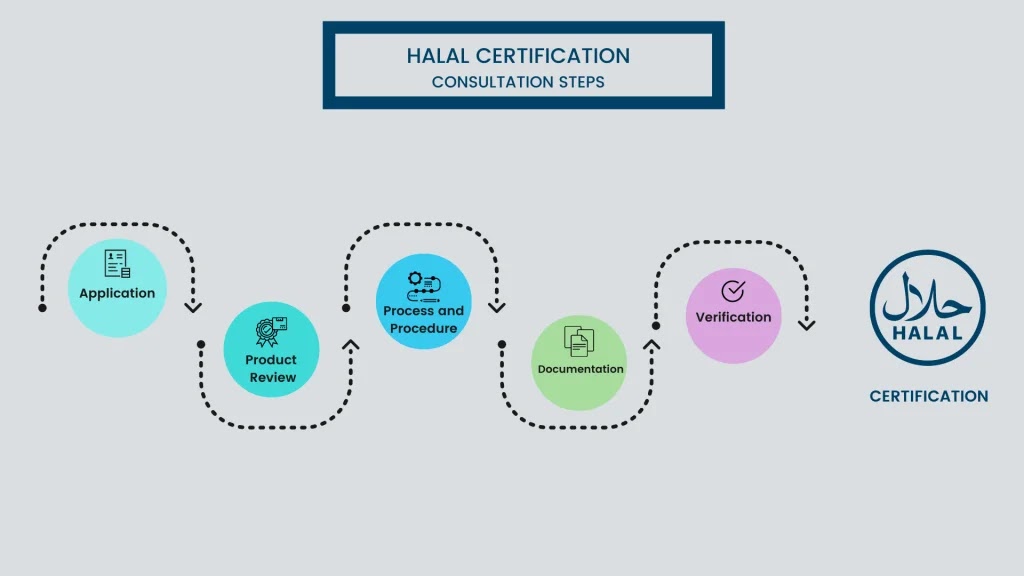 Step1: Apply for the HALAL certification
Step 2: Provide the list & specifications of the product produced along with the required documents
Step 3: Identify the product to comply with HALAL practices
Step 4: Inspection of the process & procedures
Step 5: Achieve the HALAL certification!
Advantages of HALAL Certification in Nigeria
Increase product marketability in Muslim countries/markets.
Investment at a small price compared to some sales growth.
Improve the image and at the same time meet the different needs of customers.
Improve the hygiene system when cooking.
Improving the quality of food according to world standards.
Why Choose Certivatic for HALAL Certification in Nigeria?
Certivatic makes it easy for companies at certain stages of the arena to be highly efficient, produce outstanding consultation services, and behave honestly and confidently, which positions the industry/ business higher.
The main reason for choosing Certivatic for HALAL Certification in Nigeria is our specialized methods and offering tests, inspections, certifications, training, and advice. In addition, in Nigeria, we offer HALAL certification at a lower price.
For more information visit HALAL Certification in Nigeria
ISO Certification in Nigeria