How to get ISO Certification in Nigeria?
How to get ISO Certification in Nigeria? is a common question when organizations want to get ISO Certified in Nigeria. We Certivatic provide a number of ISO Standards that will organizations to chart their path to continued success. Our ISO Certification  Services in Nigeria include a number of ISO standards that have the potential to change the operating system in accordance with worldwide legal requirements.
Before getting into How to get ISO Certification in Nigeria, it's important to know what is ISO Certification in Nigeria and its importance. So let's know what is ISO Certification in Nigeria briefly and it's important for business growth and to compete in the global market and for overall improvements.
What is ISO Certification in Nigeria?
ISO certification in Nigeria is a third-party sign of approval indicating a corporation adheres to the International Organization for Standardization's (ISO) created and published international standards. The ISO is a non-profit, multinational organization that brings together experts to share information and produce international standards that promote innovation and provide solutions to global concerns.
How to get ISO Certified in Nigeria?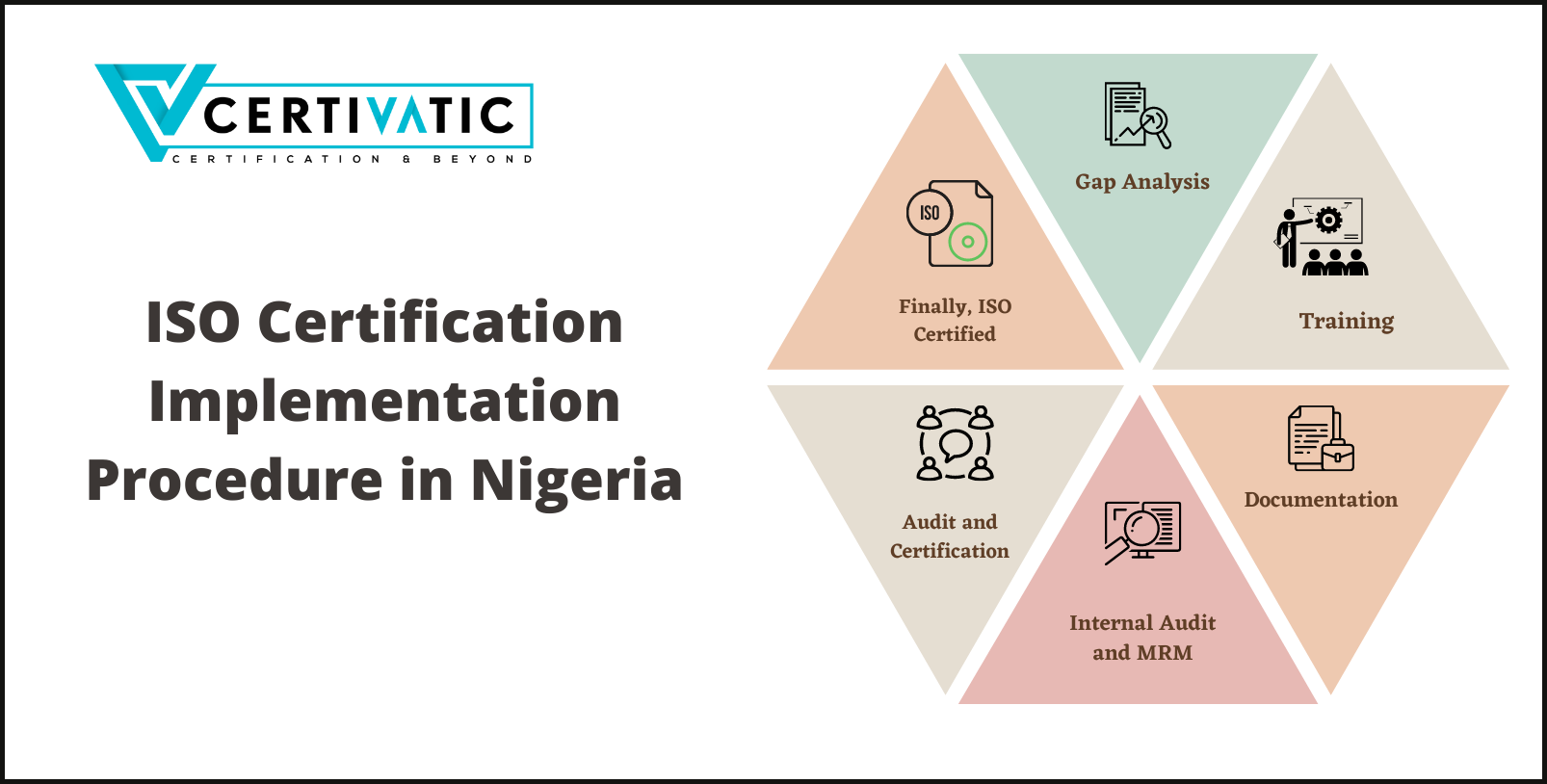 Above figure represents the procedure to get ISO Certification in Nigeria.
Now lets go with each of the steps to know more in detail.
Gap Analysis :
An interactive and in-depth analysis of many departments' working procedures, documents, and practices.
Making a Gap report and making plans for implementation
Identifying any organizational flaws in relation to the ISO criteria.
Training :
Internal auditing training, documentation training, a mock audit, and management review meeting training are all included.
Increasing public knowledge of the ISO's significance and standard.
A formal training session / sessions are conducted.
Documentation :
Assist in the preparation of documentation in compliance with ISO standards from start to finish.
In an organization, documentation is at the core of its process, procedures, and results.
Internal Audit  &  MRM :
Internal auditing (IA) is a cross-departmental auditing tool that ensures your organization's system has no loopholes.
MRM: A management review meeting (MRM) assists top management in guiding and ensuring that the entire organization meets the standard standards.
Final Audit and Certification
:
Certivatic – We're in charge of your  ISO certification!
We ensure Certification is accomplished successfully because we have a 100% success rate.
How to get ISO Consultants in Nigeria?
Certivatic provides the most cost-effective ISO Consultation and Certification services in Nigeria. We have the top ISO consultants and ISO auditors in Nigeria who can assist firms in obtaining ISO certification in Nigeria using our simple and unique ISO approach.
With ISO Certification in Nigeria, businesses may not only develop, but they can also reach all of their customers, target markets all over the world, improve customer happiness, and raise profit margins. Obtaining ISO Certification in Nigeria has become incredibly simple and straightforward by Certivatic, since we've made the procedure to be as painless as possible for businesses.