ISO 9001 Certification In Nigeria
ISO 9001 Certification In Nigeria
ISO 9001 Certification In Nigeria, Certivatic is specialized in providing ISO Certification and Consultation in Nigeria. We provide the best ISO Consultant service in Abuja, Ibadan, Lagos, Kano, Port Harcourt with the service of consultation, implementation, documentation, training, auditing, and registration. We do provide CE mark Certification and HALAL Certification.
What does ISO 9001 Certification in Nigeria Mean?
ISO 9001 certification in Nigeria specifies the requirement of a Quality Management System, ISO is an independent, Non-governmental and Non-profitable organization, The full form of ISO is an International organization for standardization. To maintain standardization in organizations across the world ISO has issued many standards like ISO 9001, ISO 14001, ISO 45001, ISO 27001, ISO 22000, etc. 
Why ISO 9001 Certification in Nigeria is Necessary?
The purpose of getting certified for ISO 9001 is to prove that the organization provides a quality product consistently to customers. Nowadays customers demand quality more than quantity so QMS plays a major role in customer satisfaction. In order to gain more profit in business, satisfying customer requirements is important, ISO 9001 certification makes sure to give the best to customers.
Continual improvement.

Trade between countries available.

Customer Satisfaction.

Global recognition.

Brand Awareness.
How to get ISO 9001 certification? – Our effective implementation steps: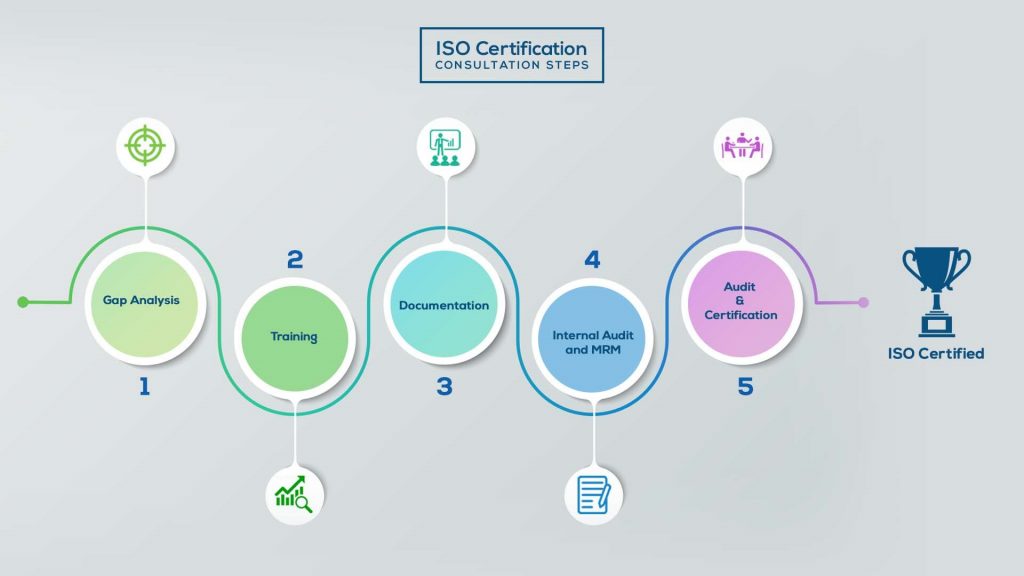 ISO Certification in Nigeria
Our method/steps are easy, unique, time-bound, and result-oriented
Interacting and detailed study of current work flows in different departments, operating procedures, documentation and practices.

Identifying any shortcomings of your organization against the requirements of ISO.

Generating a Gap report and planning for implementation
Creating awareness about ISO standard and its importance.

A formal training session/s.

It includes training on internal auditing, documentation training, mock audit and trainings to conduct management review meeting.
Documentation is the manifestation for your entire organizations process, procedure and results.

End-to-End support on preparing documentation as per ISO requirements.
Internal Audit (IA) as a tool, it is a cross departmental audit to ensure zero loophole in the system of your organization.

MRM: Management review meeting (MRM) helps top management to guide and ensure the whole organization is up to the mark as per the standard requirements.
Certivatic – Your certification is our responsibility!

With our 100% track record of success, we make sure Certification is achieved successfully.
What are the benefits and advantages of ISO 9001 Certification in

Nigeria?
Customers will have a better experience and be more likely to return in the future.

Providing service assurance

You may eliminate errors and enhance productivity by ensuring that all staff is working on the same schedule.

ISO 9001 certification serves as proof that the organization produces a consistent and good quality product.

Because ISO Certification is globally accepted, organizations will have expanded market opportunities.
Why choose Certivatic for ISO 9001 Certification in Nigeria?
Certivatic is the top leading ISO certification provider in Nigeria, Don't worry about the ISO certification cost and process to get ISO certification. We provide the best ISO consultants who help you to get certified in an easy way at an affordable cost.
We offer services around the world
Affordable Cost
Quick Certification Process
Easy Manner