ISO 27001 Certification In Nigeria
ISO 27001 Certification In Nigeria
ISO 27001 Certification In Nigeria, Certivatic is specialized in providing ISO Certification and Consultation in Nigeria. We provide the best ISO Consultant service in Abuja, Ibadan, Lagos, Kano, Port Harcourt with the service of consultation, implementation, documentation, training, auditing, and registration. We do provide CE mark Certification and HALAL Certification.
What is ISO 27001 Certification?
ISO 27001 Certification in Nigeria specifies the requirements of an information security management system. ISO/IEC 27001 was jointly published by ISO (international organization for standardization) and (IEC) International Electrotechnical Commission.
Why ISO 27001 Certification in Nigeria is Important?
ISO Certification can help you increase your company's profit and build a brand in the global marketplace. It is an international certification that is accepted across 164+ countries.
Internationally recognized certification

Reduce waste and increase efficiency

A government label

Trade between countries available

Increased consistency
How to get ISO 27001 certification? – Our effective implementation steps: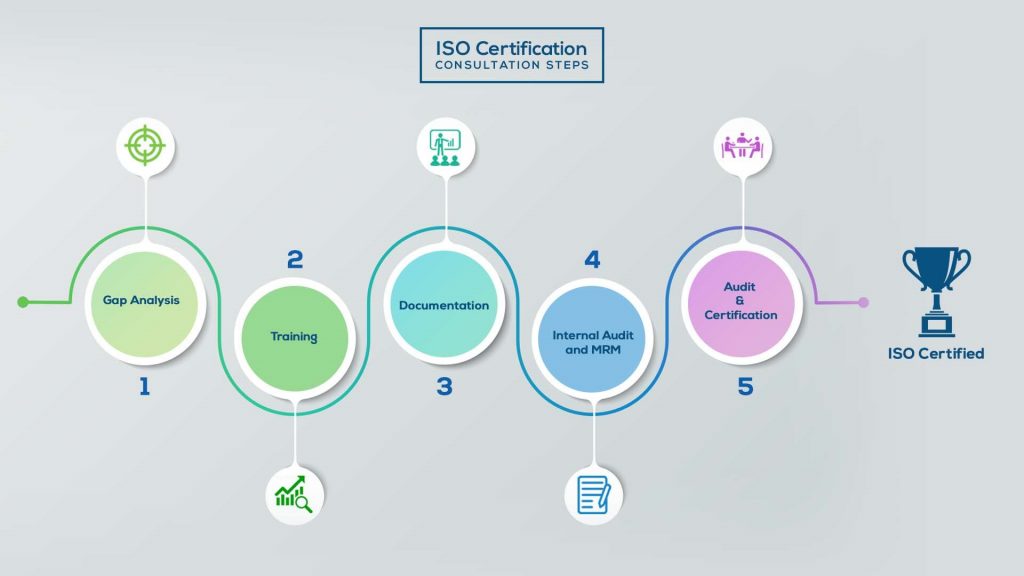 ISO Certification in Nigeria
Our method/steps are easy, unique, time-bound, and result-oriented
Interacting and detailed study of current work flows in different departments, operating procedures, documentation and practices.

Identifying any shortcomings of your organization against the requirements of ISO.

Generating a Gap report and planning for implementation
Creating awareness about ISO standard and its importance.

A formal training session/s.

It includes training on internal auditing, documentation training, mock audit and trainings to conduct management review meeting.
Documentation is the manifestation for your entire organizations process, procedure and results.

End-to-End support on preparing documentation as per ISO requirements.
Internal Audit (IA) as a tool, it is a cross departmental audit to ensure zero loophole in the system of your organization.

MRM: Management review meeting (MRM) helps top management to guide and ensure the whole organization is up to the mark as per the standard requirements.
Certivatic – Your certification is our responsibility!

With our 100% track record of success, we make sure Certification is achieved successfully.
What are the Advantages of ISO 27001 Certification in Nigeria?
ISO 27001 certification helps in data security by preventing it from getting into the wrong hands.

ISO 27001 ensures that data is accurate, dependable, and secure.

ISO 27001 certification help to identify data risk assessment.

Every company needs to be protected from cyber-attacks and security threats.

Data breaches are prevented, and systems are kept running smoothly with the help of ISO 27001.

Your company will be more productive and have a better reputation if you use an information security management system.
Why Choose Certivatic for ISO Certification?
We assist firms in following the ISO requirements for getting ISO certification, and we always ensure that our customers are satisfied with our services and consulting methods. Certivatic provides you the best ISO certification bodies in African Countries, We have expert ISO Consultants who help you to get certified in an easy way at an affordable cost.
Expert advice for process improvement
After certification, we provide constant service.
It is our obligation to get your company certified.
For more information visit ISO 27001 Certification in Nigeria