How to get ISO 13485 certification in Nigeria?
How to get ISO 13485 certification in Nigeria? It is the standard that defines the specifications for the Quality Management System (QMS) that governs the monitoring of medical devices as well as medical equipment. The standard defines the standardized methods that distributors and manufacturers must adhere to for their medical products to meet the demands of the customer and adhere to the applicable regulations.
ISO 13485 certification in Nigeria is an adaptation of the ISO 9001 process model approach and is a standard for management systems specifically designed to facilitate the manufacturing and distribution of medical equipment.
This standard allows businesses to minimize legal and safety risks while also creating more cost-effective working environments. Since it is an internationally accepted standard of safety and quality for the manufacturing of medical devices and manufacturing, having ISO 13485 certification in Nigeria helps companies be recognized as reliable as reliable providers. The most current edition ISO 13485 is the most recent version. ISO 13485 is reviewed every five years and updated by the latest demands and requirements of the field.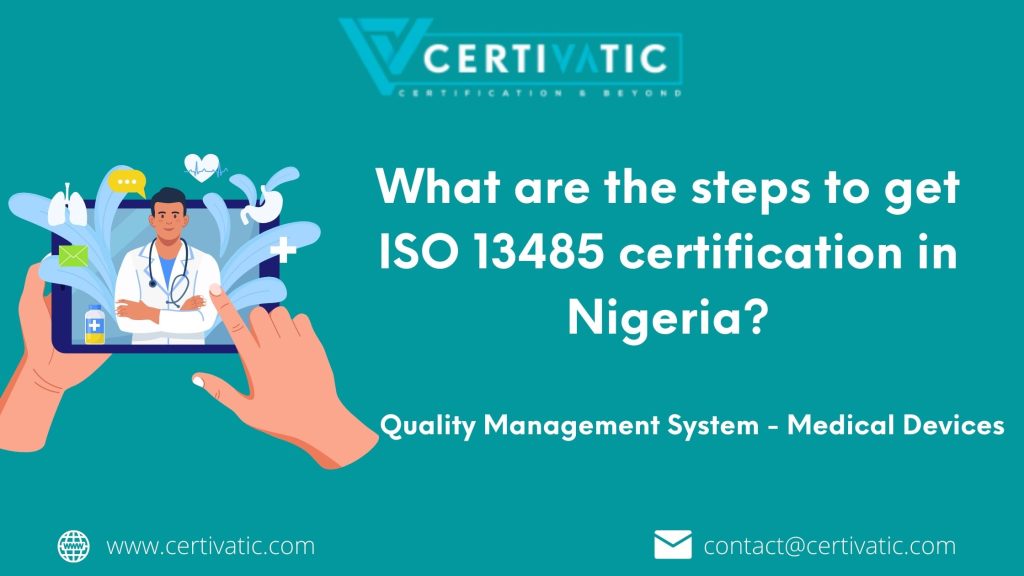 Steps to get ISO 13485 certification In Nigeria:
Gap Analysis: We offer this service to businesses who have documents in place, including policies manuals, procedures forms, handbooks, etc. They are looking to see whether their existing documents meet the specifications of the standards desired and what they should perform to ensure the system is certified.
Systems Development: We provide this service to businesses that do not have a currently in place system (documents) comprising policies procedures, manuals, procedures forms, handbooks, etc. or the gap analysis shows that their current system requires to be improved to comply with the standard they want to meet.
Implementation: The management system must have been documented and then implemented to comply with the standards desired. We will monitor and guide our clients in the implementation of the management system, while they adhere to the procedures and policies and utilize the forms.
Internal Audit: A regular internal audit is necessary to be certified and to maintain the ISO certifications. We provide this service to companies that do not have internal resources for conducting the internal audits or wish to have an additional pair of eyes to see the possibilities for improvement.
Participating in External Audit: The process of dealing with an external auditor could be extremely difficult and stressful for companies, especially for ones that want to test their systems for the first time. We will go to the external audit, and work within the role of facilitator to ensure an easier and more enjoyable experience.
In-continuous Maintenance: When organizations get their certification and are certified, they have to face new challenges in continuing to maintain what they have achieved since each year the certification body returns to audit the organization's surveillance. This service is provided to help them understand things that they may be missing in their routines.
Why choose Certivatic for ISO 13485 certification within Nigeria?
Are you trying to locate someone who is an ISO professional in Nigeria? The truth is that the company I suggest. It is a world-renowned company that has the most reliable ISO certification. ISO certification in Nigeria is the most reliable ISO certification, experts as well as services.
To know more regarding ISO 13485 certification in Nigeria, see our websites www.certivatic.com and contact@certivatic.com