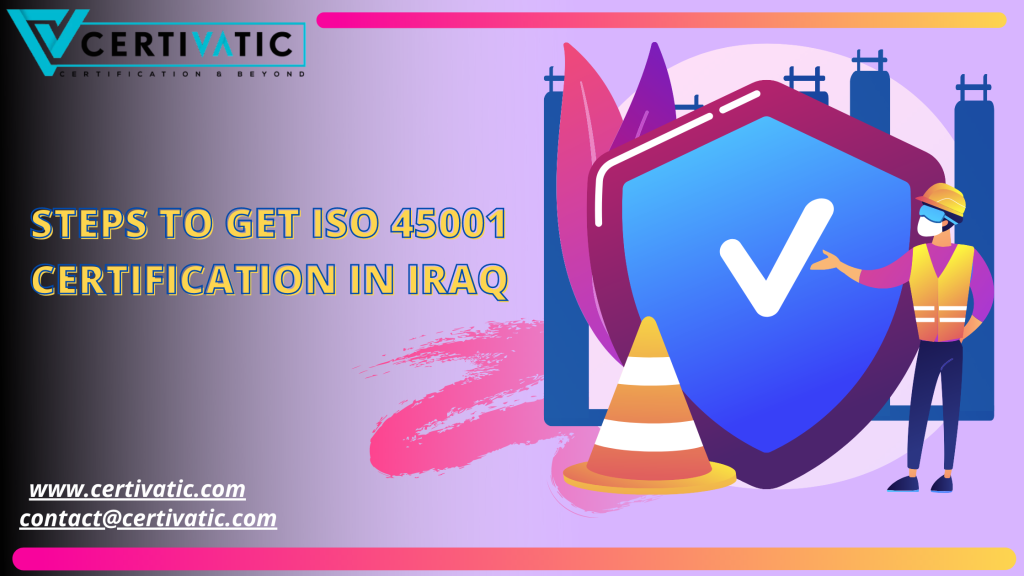 Note on ISO 45001 Certification in Iraq:
ISO 45001 Certification in Iraq is a global structure that defines an Occupational Health and Safety Management System requirements to boost its performance in preventing accidents and diseases. ISO 45001 Certification is appropriate to any organization. 
The essential steps to get ISO 45001 certification are as follows:
Planning is the very first and essential step towards ISO 45001 Certification in Iraq. It includes a meeting with the top management of the Organizations.
The awareness program is an interactive program that gives training to all the employees on the essential components of ISO 45001 Certification and its implementation.
Gap analysis is used to analyze the current performance versus the expected performance. The process owners and the management intensify the result. The professionals will put forward a record of what actions must be taken to satisfy the performance predicted.
Documentation training is an interactive program developed to give the process owners how to frame the records.
It is a formal evaluation carried out to examine how well the team has framed the documents. If any gap is noticed during the review, the expert shall feed the procedure proprietors' changes.
An internal audit is carried out to look at how effective the system is constructed. The process owners carry out this task with the help of an ISO consultant. If any changes are noticed during the audit, the management will take corrective actions.
Management Review Meeting (MRM):
Management will discuss the internal audit results stating the gaps for improvement to the team to take corrective action required for ISO 45001 Certification.
A certified external Auditor will perform the final evaluation on the system before issuing the ISO 45001 Certification.
Certivatic for ISO 45001 Certification in Iraq:
Certivatic specializes in providing ISO consultation and certifications. We give the organizations international standard certificates in the most adequate, economical, efficient, time-bound and simplified manner. For more information, visit: www.certivatic.com/iq  or write to us at contact@certivatic.com.