ISO 13485 Certification In Iraq
ISO 13485 Certification In Iraq
ISO 13485 Certification in Iraq, Certivatic is specialized in providing ISO Certification and Consultation in Iraq. We provide the best ISO 13485 Consultant service in Baghdad, Mosul, Basra, Erbil with the service of consultation, implementation, documentation, training, auditing, and registration. We provide CE mark Certification, HALAL Certification and we do provide different ISO Standards like ISO 9001, ISO 14001, ISO 45001, ISO 27001, ISO 22000, ISO 17025, ISO 13485, and many others.
About ISO 13485 Certification in Iraq
ISO 13485 Certification in Iraq is a standard by ISO which specifies requirements for a quality management system for the organizations that provide medical devices and related services that continuously meet customer and applicable legal regulatory requirements. The standard is also applicable to the organizations involved in one or more stages of the life-cycle, including production, storage, and distribution, design and development, servicing, or installation of a medical device.
Our method/steps are easy, unique, time-bound, and result-oriented.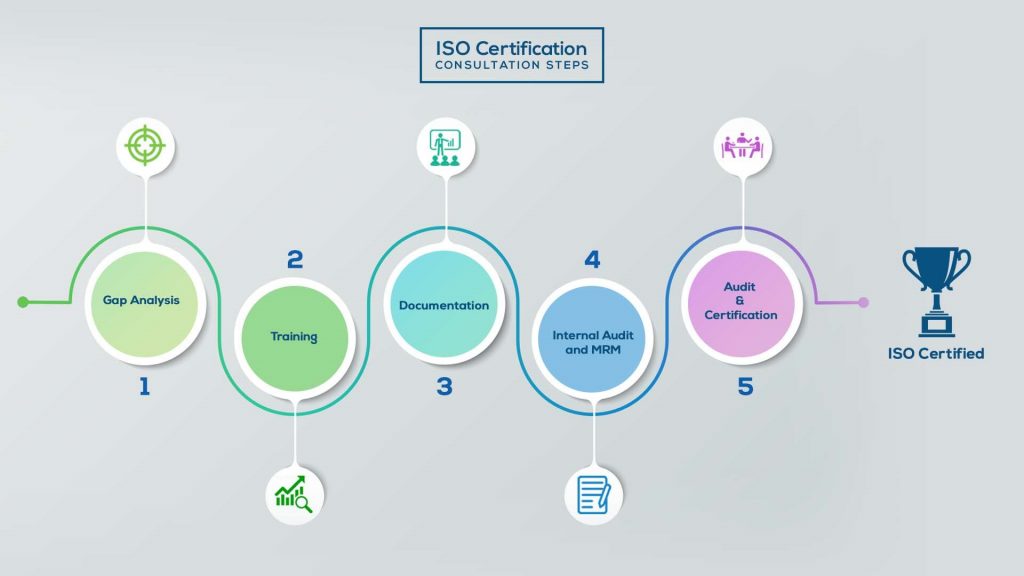 ISO Certification in Iraq
Interacting and detailed study of current work flows in different departments, operating procedures, documentation and practices.

Identifying any shortcomings of your organization against the requirements of ISO.

Generating a Gap report and planning for implementation
Creating awareness about ISO standard and its importance.

A formal training session/s.

It includes training on internal auditing, documentation training, mock audit and trainings to conduct management review meeting.
Documentation is the manifestation for your entire organizations process, procedure and results.

End-to-End support on preparing documentation as per ISO requirements.
Internal Audit (IA) as a tool, it is a cross departmental audit to ensure zero loophole in the system of your organization.

MRM: Management review meeting (MRM) helps top management to guide and ensure the whole organization is up to the mark as per the standard requirements.
Certivatic – Your certification is our responsibility!

With our 100% track record of success, we make sure Certification is achieved successfully.
The organizations irrespective of their size have realized the benefits of ISO 13485 Certification in Iraq. Anyhow the benefits cannot be exaggerated but significantly can help organizations to open doors to untapped domestic and international business opportunities and reap the benefits
International recognition: ISO 13485 certified companies receive international accreditation which will help in reaching the global market as a number of international regulatory authorities have adopted the standard framework.
Customer confidence: Certification against ISO 13485 standard demonstrates the commitment of the organization in terms of achieving quality and creates a sense among your customers that your organization is truly considering quality as a serious aspect.
Credibility and brand image: ISO 13485 certified organizations are believed to be more credible as they will be following international standards in their processes. Certification will also act as an important branding tool for the marketing of the company.
Performance improvement: The standard framework implementation in your organization will prove as a catalyst in overall performance improvement in products and services, improved relationships with your suppliers, business partners, customers, and give you fruitful results in the market.
Requirements of ISO 13485 Certification in Iraq
The structure of ISO 13485 Certification in Iraq is divided into 8 sections, the first 3 sections are just for the introduction, and the remaining 5 contain mandatory requirements.
Section 4: This section is all about Quality Management systems and documentation requirements
Section 5: Demonstrates top management commitment in providing directions and responsibility
Section 6:  This section covers resources, including human resources, buildings, infrastructure, and the working environment.
Section 7: Design and development, product requirement review, and controlling the equipment used to monitor and measure the product or service. This section is not applicable for companies who do not design any product
Section 8: The last section includes assessing customer satisfaction, internal audits, dealing with non-conforming products, and corrective and preventive actions.