ISO 14001 Certification In Iraq
ISO 14001 Certification In Iraq
ISO 14001 Certification in Iraq, Certivatic is specialized in providing ISO Certification and Consultation in Iraq. We provide the best ISO 14001 Consultant service in Baghdad, Mosul, Basra, Erbil with the service of consultation, implementation, documentation, training, auditing, and registration. We provide CE mark Certification, HALAL Certification and we do provide different ISO Standards like ISO 9001, ISO 14001, ISO 45001, ISO 27001, ISO 22000, ISO 17025, ISO 13485, and many others.
About ISO 14001 Certification in Iraq
ISO 14001 Certification in Iraq is a standard for Environmental Management System published by ISO;the standard is accepted by many major countries globally. EMS is a framework which is composed of a set of policies and procedures which defines the guidelines on how an organization interacts with the environment and manages efficiently without causing negative impacts. The standard asks us to take care of our environment and prevent our companies from causing adverse impacts on the environment.
Our method/steps are easy, unique, time-bound, and result-oriented.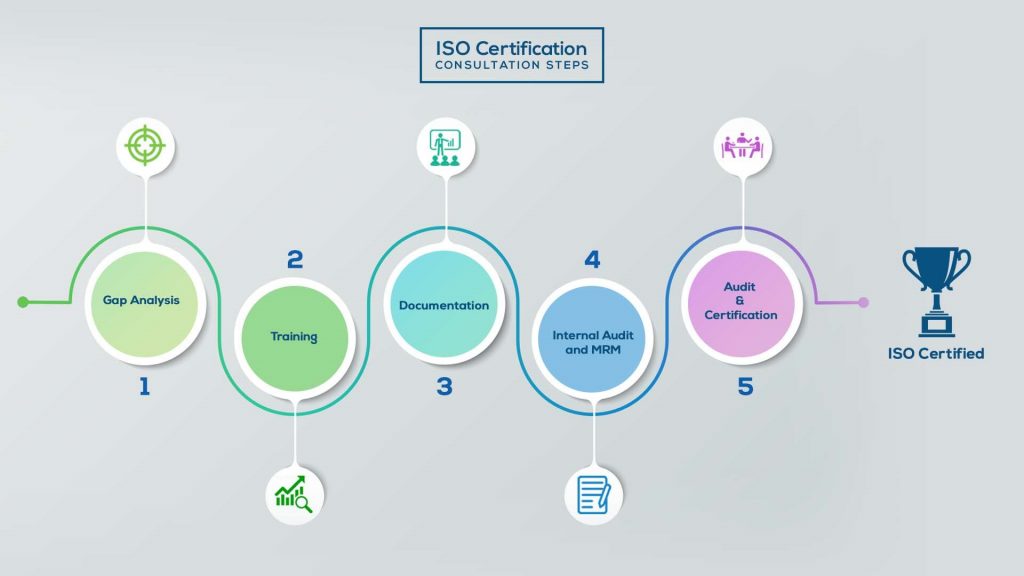 ISO Certification in Iraq
Interacting and detailed study of current work flows in different departments, operating procedures, documentation and practices.

Identifying any shortcomings of your organization against the requirements of ISO.

Generating a Gap report and planning for implementation
Creating awareness about ISO standard and its importance.

A formal training session/s.

It includes training on internal auditing, documentation training, mock audit and trainings to conduct management review meeting.
Documentation is the manifestation for your entire organizations process, procedure and results.

End-to-End support on preparing documentation as per ISO requirements.
Internal Audit (IA) as a tool, it is a cross departmental audit to ensure zero loophole in the system of your organization.

MRM: Management review meeting (MRM) helps top management to guide and ensure the whole organization is up to the mark as per the standard requirements.
Certivatic – Your certification is our responsibility!

With our 100% track record of success, we make sure Certification is achieved successfully.
Why implement ISO 14001 in your organization and achieve a certificate?
Branding and Credibility: the creation of a good public image of your organization is possible once you get certified for a standard that is oriented for environmental safety and it will boost your credibility in the market and lead to an enhanced image in public relations
Reduce wastage: Through the techniques and objectives set as per ISO 14001, the organizations can use the energy rationally and reduce the use of the non-renewable sources of energy
Compliance to law: if your company has implemented and certified for ISO 14001 then it becomes easier to demonstrate compliance for local and international laws governing environmental safety
Go global: You can sell your products in overseas markets by adding a unique selling point to your products saying that your company manufactures fewer pollutant products and complies with international standards of environmental safety
Aspect and Impact of ISO 14001 Certification in Iraq
Aspect: According to ISO 14001, aspects are the organization's activities/products/services that interact with the environment.
Impact: The organization's activities/products/services which cause an impact as a change to the environment either positive or negative.
For example: using computers in offices is an activity, the aspect is using of non-renewable source of energy which is electricity (which we have got from the environment) and the impact is depletion of energy (which we cannot get it back once we use it).
ISO 14001 certification in Iraq is applicable to all sectors of industries and hence plays an important role in conserving the environment.