Halal Certification In Iraq
Halal Certification In Iraq
About Halal Certification In Iraq
Halal certification in Iraq, Halal is an Arabic term that means permitted, so basically Halal is a standard defined for consumable foods to all Muslims worldwide as per Islamic law. Halal is nothing but a standard set of requirements that the food has to fulfill in order to be fit for the consumption of Muslims. The definition of Halal and the procedure is been described in the holy book of the Quran.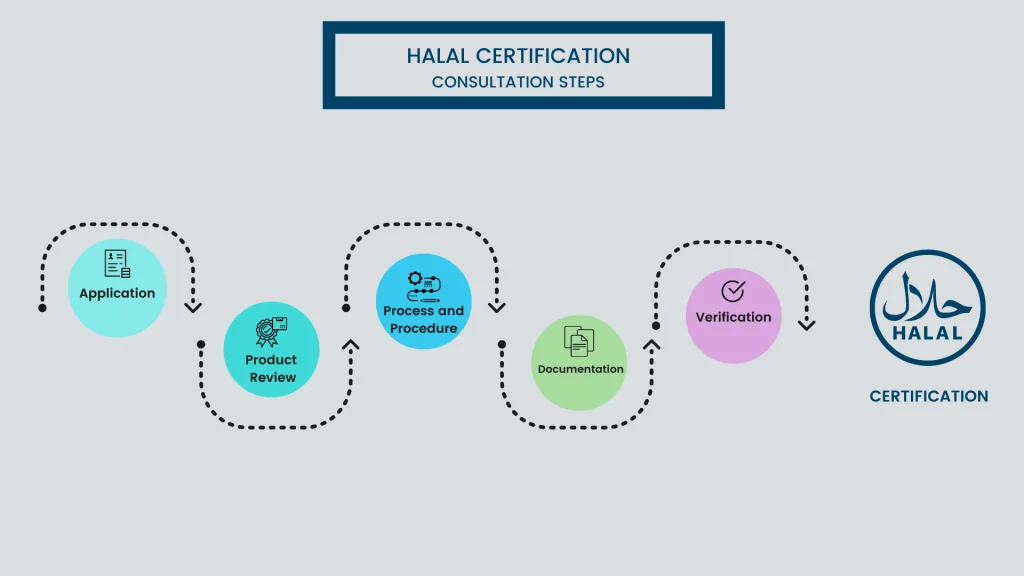 Step1: Apply for the HALAL certification
Step 2: Provide the list & specifications of the product produced along with the required documents
Step 3: Identify the product to comply with HALAL practices
Step 4: Inspection of the process & procedures
Step 5: Achieve the HALAL certification!
What does Halal mean for manufacturers?
Any business is built on certain strategies and one of the most important strategies is categorizing your preferred customers according to geography, age, education, etc. which determines their buying behavior. Muslims around the world only prefer to consume Halal products, if you are a manufacturer and your target audience is of mixed nationalities and religions then it becomes necessary for you to get your products certified under Halal.
Why is Halal certification in Iraq necessary for Muslims?
Islam is way beyond religion which teaches a way of life, rules, discipline, responsibilities, regulations, and protocols, all Muslims around the world follow the holy book of the Quran which is believed to be made for mankind. Muslims follow the laws of this book and the teachings of their prophets, hence Halal procedure and guidelines are described in the holy book and have been narrated by the prophet so it becomes obligatory to follow Halal procedure in all the consumable foods.
Benefits of Halal certification in Iraq:
Increase sales: Halal-certified products are easily sold in the global and local market as many people apart from Muslims prefer to buy them, Halal certified products are more hygienic and reliable for human consumption.
Customer satisfaction: Your customers will be happy and satisfied if your products are Halal certified, it will derive pleasure for them while consuming it and provide an emotional touch that the manufacturer is also considering their religious aspects while manufacturing.
Reach target audience: being your products certified under Halal will automatically attract your targeted customers
Fulfill mandatory requirement: Halal certification is mandatory for products to be sold in several Islamic countries, hence getting certification fulfills this requirement
Halal not only for meat: Halal certification is not only for meat processing industries but also applicable for dairy, poultry, beverage drinks, cosmetics, pharmaceutical industries, etc.
Halal Certification In Iraq is an International Accredited Certification body. We have a team of expert certification consultants in major cities in Iraq like Baghdad, Mosul.
ISO Certification in Iraq