ISO 9001 Certification In Iraq
ISO 9001 Certification In Iraq
ISO 9001 Certification In Iraq, Certivatic is specialized in providing ISO Certification and Consultation in Iraq. We provide the best ISO Consultant service in Baghdad, Mosul, Basra, Erbil with the service of consultation, implementation, documentation, training, auditing, and registration. We provide CE mark Certification, HALAL Certification and we do provide different ISO Standards like ISO 14001, ISO 45001, ISO 27001, ISO 22000, ISO 17025, ISO 13485, and many others.
About ISO 9001 Certification in Iraq
ISO 9001 is the most famous standard of ISO, millions of organizations worldwide have accepted and implemented this standard, ISO 9001 specifies the requirements for a quality management system, and the latest version was released in the year 2015. ISO 9001 is quite an essential and influential standard and serves as the foundation for implementing other standards.
Our method/steps are easy, unique, time-bound, and result-oriented.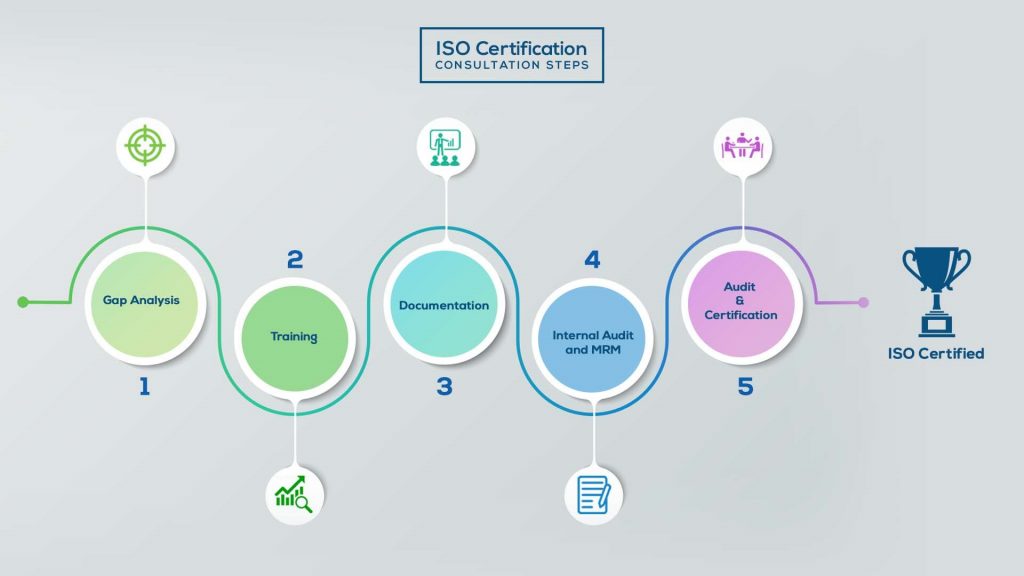 ISO Certification in Iraq
Interacting and detailed study of current work flows in different departments, operating procedures, documentation and practices.

Identifying any shortcomings of your organization against the requirements of ISO.

Generating a Gap report and planning for implementation
Creating awareness about ISO standard and its importance.

A formal training session/s.

It includes training on internal auditing, documentation training, mock audit and trainings to conduct management review meeting.
Documentation is the manifestation for your entire organizations process, procedure and results.

End-to-End support on preparing documentation as per ISO requirements.
Internal Audit (IA) as a tool, it is a cross departmental audit to ensure zero loophole in the system of your organization.

MRM: Management review meeting (MRM) helps top management to guide and ensure the whole organization is up to the mark as per the standard requirements.
Certivatic – Your certification is our responsibility!

With our 100% track record of success, we make sure Certification is achieved successfully.
What is Quality Management System?
ISO 9001 is all about quality management system, to understand the term quality management system (QMS) let's break the sentence in two:
Quality: Quality is an intangible thing, it's a culture to be developed in organizations, and in short quality is the value perceived by your customer for the price he is paying for.
Management System: A system of a set of policies, people, principles, procedures, practices, protocols, skills together constitutes a management system
Therefore applying management system practices with the intention to achieve quality in your organization is what the quality management system says.
Core benefits of ISO 9001 certification in Iraq to your business
If your customer sees ISO 9001 certified company on your products then it is sure that you will gain customer's confidence for buying your products
Give your business an international touch by achieving ISO 9001 certificate
ISO 9001 certification in Iraq is so flexible that it can be implemented in any organization irrespective of nature and the size of your business.
Participate in government tenders and register your company as an approved
ISO 9001 is a world-famous standard, achieve these certificates and pose a tough competition in the global market
Increase brand recognition by distinguishing your company among your competitors by certifying your business.
Increase revenue by gaining customer confidence
Comply with statutory and legal requirements
Gate pass to enter the global market
How much does it cost to get ISO 9001 certification in Iraq?
The cost for getting ISO 9001 certification in Iraq will not be the same for every company, the certification cost differs from one company to another, and the cost depends upon the scope of work and efforts needed for implementing necessary processes.