ISO 45001 Certification In Iraq
ISO 45001 Certification In Iraq, Certivatic is specialized in providing ISO Certification and Consultation in Iraq. We provide the best ISO Consultant service in Baghdad, Mosul, Basra, Erbil with the service of consultation, implementation, documentation, training, auditing, and registration. We provide CE mark Certification, HALAL Certification and we do provide different ISO Standards like ISO 9001, ISO 14001, ISO 45001, ISO 27001, ISO 22000, ISO 17025, ISO 13485, and many others.
About ISO 45001 Certification in Iraq
ISO 45001 occupational health and safety management system (OHSMS) is a framework which helps organizations to take care of their employee health and safety at work place. The standard demands to design and establish various practice, policies, procedures, and plans for avoiding dangers related to employee safety at work place and continually monitor it.
How to get ISO 45001 certification in Iraq? – Our effective implementation steps:
Our method/steps are easy, unique, time-bound, and result-oriented.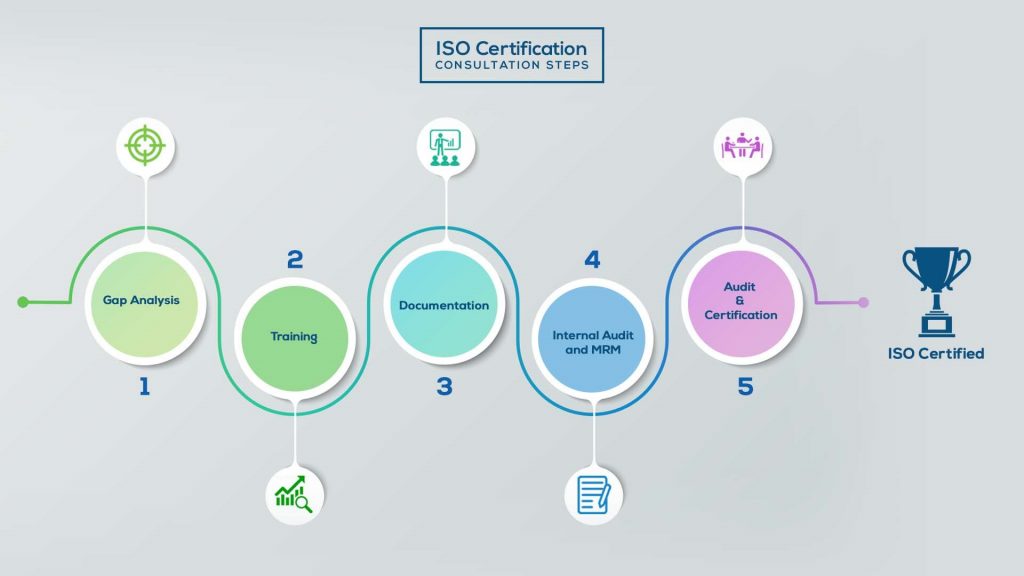 ISO Certification in Iraq
Interacting and detailed study of current work flows in different departments, operating procedures, documentation and practices.

Identifying any shortcomings of your organization against the requirements of ISO.

Generating a Gap report and planning for implementation
Creating awareness about ISO standard and its importance.

A formal training session/s.

It includes training on internal auditing, documentation training, mock audit and trainings to conduct management review meeting.
Documentation is the manifestation for your entire organizations process, procedure and results.

End-to-End support on preparing documentation as per ISO requirements.
Internal Audit (IA) as a tool, it is a cross departmental audit to ensure zero loophole in the system of your organization.

MRM: Management review meeting (MRM) helps top management to guide and ensure the whole organization is up to the mark as per the standard requirements.
Certivatic – Your certification is our responsibility!

With our 100% track record of success, we make sure Certification is achieved successfully.
Why do we need ISO 45001 certification in Iraq?
Avoiding occupational health and safety hazards: The dangers related to occupational health and safety can be prevented in the organizations who follow international standard specifically designed for health and safety
Enhanced public image: ISO 45001certified organizations can demonstrate their commitment towards employee health and safety and enhance their public image as an organization which is caring for their employees.
Cost reduction: By using the framework of ISO 45001, the organizations can reduce accidents at work place and reduce cost on treatment of their employees.
Employee engagement: Through the policies designed for implementing ISO 45001 will help the organizations to engage its staff to carry out various activities and will also provide good results in employee retention.
Legal compliance: ISO 45001 certified companies will cover almost all policies set by the law for employee safety and hence legal compliance becomes easier.
Benefits ISO 45001 certification in Iraq
Reduce your insurance premium, get no claim bonus offers from your insurers while making workmen compensation and group life insurance policies of your employees
Increase employee productivity by reducing accidents and provide safe working conditions
Get assured return on investments (ROI) in many ways like enhanced productivity, efficiency of employees working under safe environment
Improve managerial oversight by implementing ISO 45001 which provides enhanced reporting mechanism to Top management
ISO 45001 certification in Iraq can be implemented in all types of organization, not only just in factories or in manufacturing companies
Differentiate your company in competitive market by certifying your organization