ISO 27001 Certification In Iraq
ISO 27001 Certification In Iraq
ISO 27001 Certification In Iraq, Certivatic is specialized in providing ISO Certification and Consultation in Iraq. We provide the best ISO 27001 Consultant service in Baghdad, Mosul, Basra, Erbil with the service of consultation, implementation, documentation, training, auditing, and registration. We provide CE mark Certification, HALAL Certification and we do provide different ISO Standards like ISO 9001, ISO 14001, ISO 45001, ISO 27001, ISO 22000, ISO 17025, ISO 13485, and many others.
About ISO 27001 Certification in Iraq
ISO 27001 is one of the leading management system standards published by ISO for information security, the purpose of ISO 27001 certification in Iraq is to help organizations of any size or nature of the business to protect their business-critical information in a systematized and effective way through the guidelines of ISO 27001.
How to get ISO 27001 certification in Iraq? – Our effective implementation steps:
Our method/steps are easy, unique, time-bound, and result-oriented.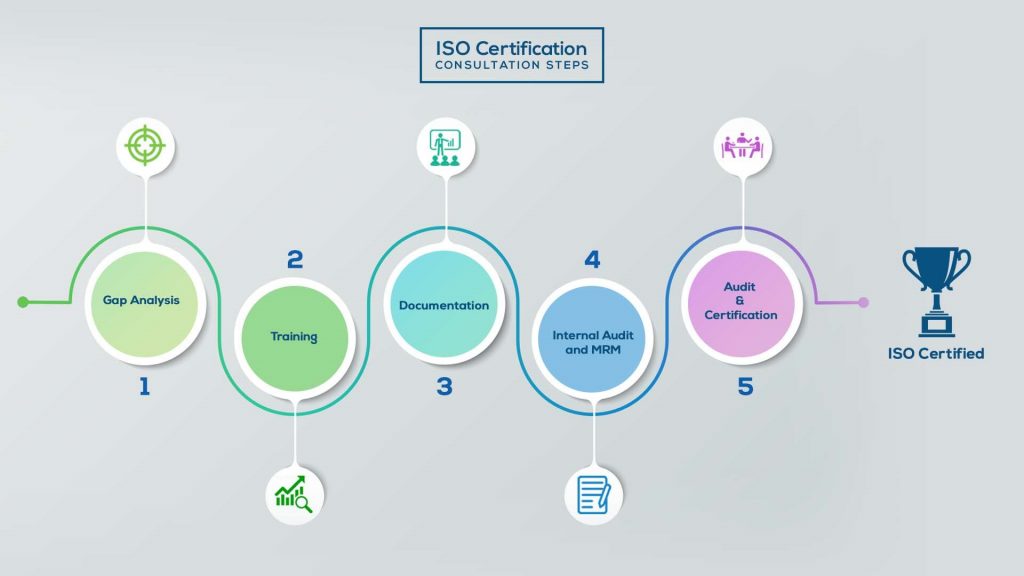 ISO Certification in Iraq
Interacting and detailed study of current work flows in different departments, operating procedures, documentation and practices.

Identifying any shortcomings of your organization against the requirements of ISO.

Generating a Gap report and planning for implementation
Creating awareness about ISO standard and its importance.

A formal training session/s.

It includes training on internal auditing, documentation training, mock audit and trainings to conduct management review meeting.
Documentation is the manifestation for your entire organizations process, procedure and results.

End-to-End support on preparing documentation as per ISO requirements.
Internal Audit (IA) as a tool, it is a cross departmental audit to ensure zero loophole in the system of your organization.

MRM: Management review meeting (MRM) helps top management to guide and ensure the whole organization is up to the mark as per the standard requirements.
Certivatic – Your certification is our responsibility!

With our 100% track record of success, we make sure Certification is achieved successfully.
ISO 27001 certification is for all organizations
Many people think by referring to the nomenclature of the standard which has the word "Information Security" in it but it does not really mean that ISO 27001 is only for Information Technology (IT) based organizations. The ultimate purpose of the standard is to consider information as an asset and protect it with the help of the framework provided by ISO 27001. Information is everywhere, in all businesses and hence it should always be a primary objective to protect it.
Benefits of ISO 27001 certification in Iraq
Eliminate business risk: Implementing ISO 27001 and getting certified will provide your organization with a systematic approach to eliminate or reduce the risk of information breach which can cause a serious impact on your business
Protect Information: ISO 27001 certified companies have proper information security practices and protect their business information falling into wrong hands
Brand reputation: ISO 27001 certified company means an organization that is independently assessed to an international standard which is specifically designed for information security and achieved compliance
Gain customer confidence: ISO 27001 certification will demonstrate your commitment towards data security and hence boost the confidence of your customer so that their information is appropriately taken care of.
Purpose of ISO 27001 certification in Iraq
ISO 27001 ISMS is nothing but an Information Security Management System which defines a set of guidelines that the organizations need to establish with the intention to:
Identify needs and expectations of interested parties in the light of information security
Determine existing risks associated with information security
Design controls and mitigation plans to handle the risks
Setting information security objectives at all levels of business
Implement control measures to eliminate, reduce or transfer the risks
Measure the performance of implemented controls and yield expected results