ISO 22000 Certification In Iraq
ISO 22000 Certification In Iraq
ISO 22000 Certification in Iraq, Certivatic is specialized in providing ISO Certification and Consultation in Iraq. We provide the best ISO Consultant service in Baghdad, Mosul, Basra, Erbil with the service of consultation, implementation, documentation, training, auditing, and registration. We provide CE mark Certification, HALAL Certification and we do provide different ISO Standards like ISO 9001, ISO 14001, ISO 45001, ISO 27001, ISO 22000, ISO 17025, ISO 13485, and many others.
About ISO 22000 Certification in Iraq
ISO 22000 certification in Iraq is a standard developed and published by ISO which defines requirements for the Food Safety Management System (FSMS) and the organizations whoever involved in the food chain business right from the farm to fork needs to meet the requirements of this standard. The latest version of the standard was published in the year 2018 and hence ISO 22000:2018 is the current version of the standard.
How to get ISO 22000 certification in Iraq? – Our effective implementation steps:
Our method/steps are easy, unique, time-bound, and result-oriented.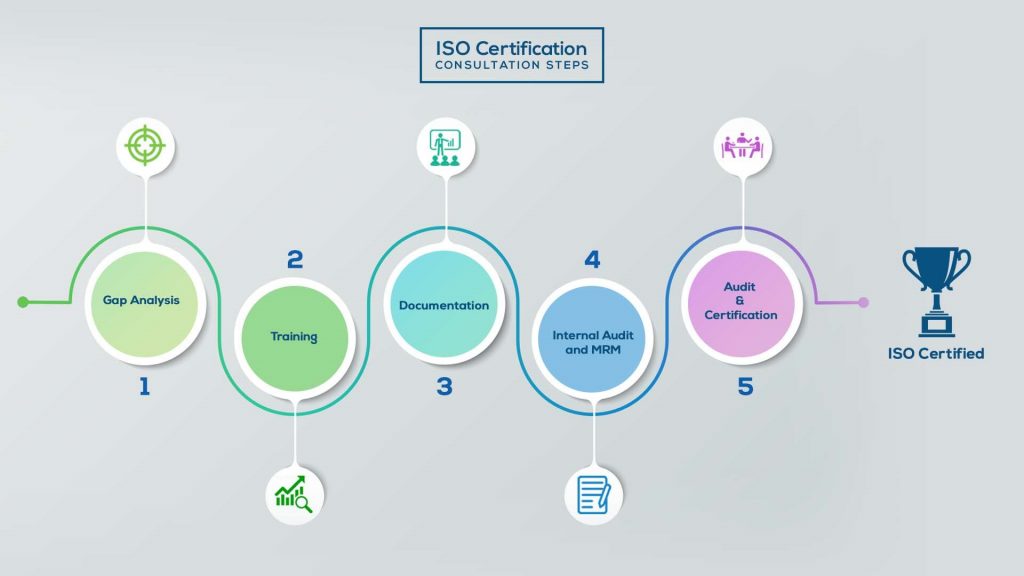 ISO Certification in Iraq
Interacting and detailed study of current work flows in different departments, operating procedures, documentation and practices.

Identifying any shortcomings of your organization against the requirements of ISO.

Generating a Gap report and planning for implementation
Creating awareness about ISO standard and its importance.

A formal training session/s.

It includes training on internal auditing, documentation training, mock audit and trainings to conduct management review meeting.
Documentation is the manifestation for your entire organizations process, procedure and results.

End-to-End support on preparing documentation as per ISO requirements.
Internal Audit (IA) as a tool, it is a cross departmental audit to ensure zero loophole in the system of your organization.

MRM: Management review meeting (MRM) helps top management to guide and ensure the whole organization is up to the mark as per the standard requirements.
Certivatic – Your certification is our responsibility!

With our 100% track record of success, we make sure Certification is achieved successfully.
Quality Mark: You can mark your products as ISO 22000 food safety certified once you achieve ISO 22000 certificates and boost sales as customers demand safe food for consumption
Go global: It becomes much easier for ISO 22000 certified companies to sell their products in the global market
Organized management: ISO 22000 framework is based on structural concepts of management system standards and will provide a professional approach for managing overall operations
Employee involvement: ISO 22000 asks to create food safety leader and constitute a food safety team and this will lead to employee engagement for achieving a common objective
Enhanced eligibility: Your organization can participate in government and non-government tenders as approved vendors to supply your food products and services
ISO 22000 certification is applicable to the organizations involved at any level of food chain business
Hotels and restaurants
Animal feeds producers
Dairy production houses
Fisheries and meat producers
Livestock
Packed food processing units
Companies involved in the supply of packing materials & logistic service providers for food industries
Other related food manufacturers such as refreshment and beverage drinks etc.
Difference between HACCP and ISO 22000 certification in Iraq
ISO 22000 certification in Iraq is developed by ISO and HACCP certification in Iraq is developed by a team of food scientists and engineers from The Pillsbury Company, the Natick Research Laboratories, and NASA.
HACCP asks us to divide the control measures into two categories such as pre-requisites and control measures that are applied at critical control points (CCPs) whereas in ISO 22000 these control measures are grouped under one program called as operational pre-requisite program and implemented accordingly
HACCP is a narrow concept that is focused on the identification of food-related hazards and ISO 22000 is a wide concept that covers all levels of food processing and is based on a risk-based approach.
Food threat can occur on the food at any periods of characteristic lifestyle and it should be controlled or discarded absolutely in order to defend the tidiness condition of the food. All these astounding activities are assisted with the help of ISO 22000 certification in Iraq in your Organization.