CE Mark Certification In Iraq
CE Mark Certification In Iraq
About CE Mark Certification In Iraq
CE (European Confirmative) mark is considered a mark of compliance, generally, it can be seen on various products which means that a particular product meets the requirements of European Union legislation. CE marking is the manufacturer's declaration that the product meets the requirements of the applicable EC (European Commission) directives.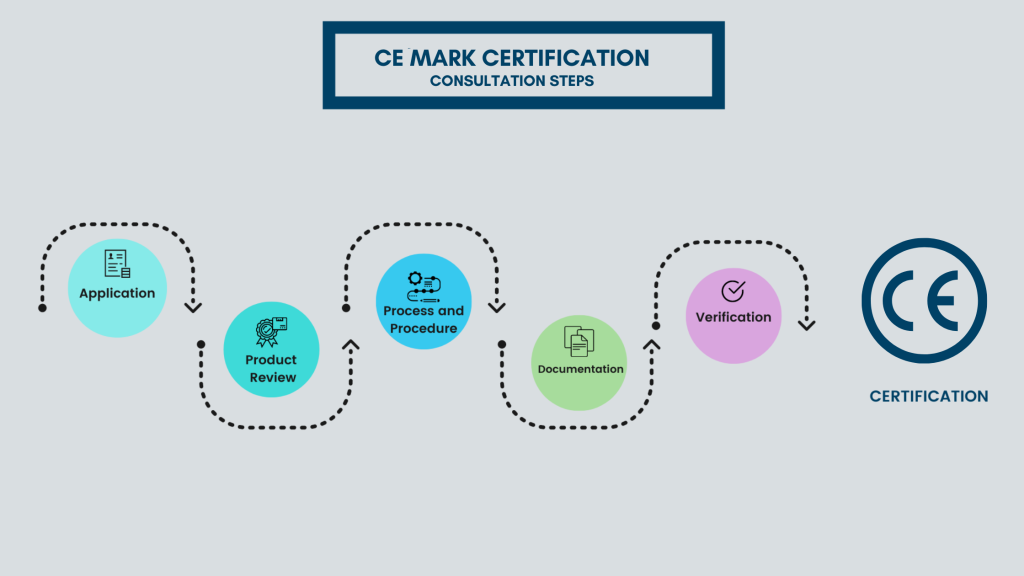 Our steps are easy, unique, time-bound, and result-oriented.
Determine the EU Directives that apply to your product.
Classifying the product and identifying the applicable Directives & Regulations.
More than one Directive/Regulation might be applicable to your product!
Identify & Cover the applicable requirements of the directive(S)
Identifying & evaluating your product against the essential requirements.
Ensure the product meets all those requirements.
Compilation of technical documentation
Preparing for the technical formalities and evidence.
Review of the technical aspects related to the design, manufacture, and/or operations of the product.
Creating a Declaration of Conformity (DOC)
An acknowledgment by the manufacturer stating that the product meets all relevant product safety requirements of the applicable CE marking directives.
Creating and signing a Declaration of Conformity.
Affixing the CE mark!
Labeling and marking the product as per the specifications.
Finally, affix the correct CE marking label on the product.
Benefits of CE mark certification in Iraq for your product:  
Safe product: considering CE directives and standards while manufacturing makes your products safer and environment friendly, the product will be safer for the user and this may also reduce damage and liability claims.
Trade Passport: CE mark certification in Iraq will act as a trade passport for your products as it allows free circulation of the products throughout the 30 countries of the European Economic Area (EEA) without any restrictions.
Ultimate requirement: The manufacturers should only follow one set of requirements and procedures according to CE while manufacturing in order to trade their products to whole EEA countries, here elimination of various conflicting national regulations are eliminated.
Customer trust: CE mark on your products will help in gaining customer trust as they prefer to buy only durable, safe, and environment-friendly products
Approved supplier: the manufacturers of small and big components who are involved in raw materials supply can get CE certification for their products and become approved suppliers for reputed companies.
Legal compliance:  The compliance of local laws becomes hassle-free if the products are marked with CE as the standard directives are considered and accepted worldwide.
Increased Revenue: Your exports will be successful and local sales will boost if the products are CE certified, this will bring more revenue to the business.
What products can be certified under CE Mark certification in Iraq?
Electrical & Electronic equipment
Radio & Telecommunications terminal equipment
Medical equipments
Toys & Recreational crafts
Pressure and Gas vessels
Personal protective equipment
Machineries
Cableways, Construction products, Explosives for civil use, boilers, weighing & Measuring Equipment
CE Mark Certification In Iraq, the conformity mark shows that the manufacturer has checked that these products meet EU safety.
ISO Certification in Iraq