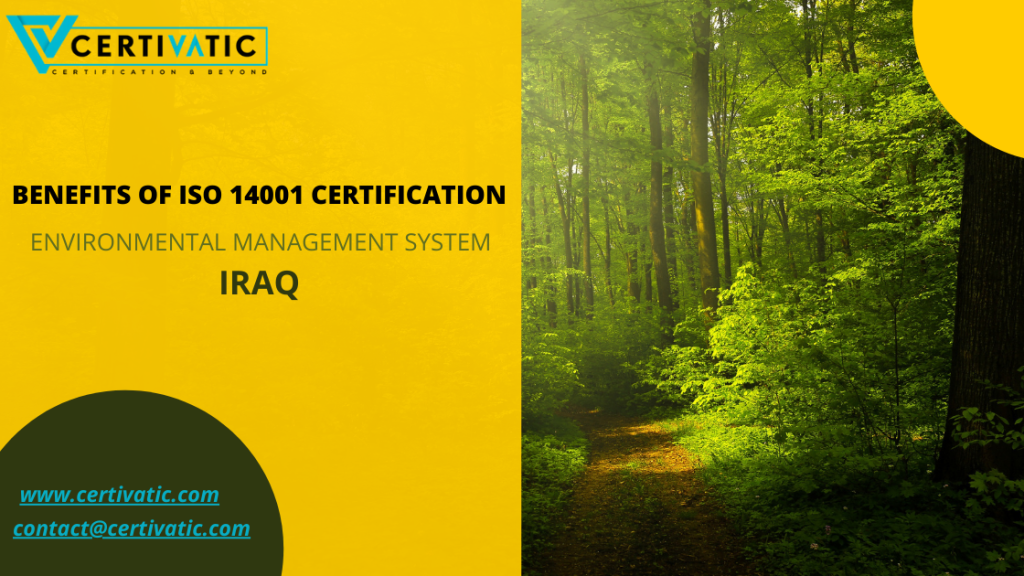 Note on ISO 14001 Certification in Iraq:
ISO 14001 Certification in Iraq is a part of the ISO 14000 family. It specifies the guidelines that organizations must follow for Environmental Management System (EMS). The certification ensures that organizations' operations do not impact the environment in any way. ISO 14001 Certification confirms that organizations check the ecology through continuous evaluation and audits. The ISO 14001 Certification in Iraq applies to all organizations, irrespective of their size.
Benefits of ISO 14001 Certification in Iraq:
Environmental Management and Efficient use of resources:
Through practices like recycling and waste management, the organizations can gain significant profits following ISO 14001 Certification in Iraq.
Enhances corporate image and credibility:
Through training and continual measurement of the results, the organization can take corrective action against any risks or hazards. This increases the Organization's Credibility internationally.
Ensures legislative compliance:
By following the rules and regulations of the changing laws, the organizations in Iraq should make sure that the employees follow the procedures. Following rules ensure legislative awareness and compliance to ISO 14001 Certification.
Improve environmental performance:
The organizations can go 'Green' by following the guidelines of ISO 14001 Certification in Iraq that mention reducing energy, water and insists on natural consumption of resources. It also instructs to keep a check on the pollution emissions caused due to some industries. This increases the supply chain through which manufacturers, retailers, and buyers reduce their environmental impact throughout the value chain.
Customer relationship management:
By developing environmentally friendly products, the organization can gain trust from existing customers and gain new customers.
The most significant benefit of any organization following the ISO 14001 Certification is cost reduction.
 Communication and awareness increase in the organization with increased environmental responsibility and training for ISO 14001 Certification in Iraq.
About Certivatic:
Certivatic specializes in providing ISO 14001 Certification in Iraq. We support organizations in obtaining international standard certificates in the most adequate, economical, efficient, time-bound, and simplified manner. Certivatic comprises a large, global, and multidisciplinary team of experienced and skilled professionals renowned for delivering technical excellence across various industrial sectors. For more information, visit: www.certivatic.com/iq  or write to us at contact@certivatic.com.